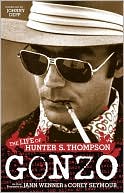 Hunter S. Thompson was born on this day in 1937 in Louisville, Kentucky. Among the anecdotes related by Thompson's childhood friends in Gonzo,a 2007 oral biography, is this recollection of itinerant, incendiary behavior:
Hunter used to ride his bike around the neighborhood, shooting matches with a clothespin shooter. You could make a shooter out of just a clothespin and a rubber band and a "strike anywhere" match, and all you have to do is squeeze the thing and out shoots a lit match. People used to burn their leaves in the fall, and they'd rake them into the gutters first. But Hunter would ride around the neighborhood and shoot these things into the leaves and start fires all over the Highlands.
The playing-with-fire leitmotif runs throughout Gonzo, with Thompson's colleagues, friends, and enemies acting as participants, targets, or awestruck bystanders. A high school girlfriend recalls the time Thompson took her to the movies, disappeared, and then returned dressed in his mother's clothes. Buddies from Thompson's days on the staff of the Air Force newspaper—after a series of arrests for various pranks and misdemeanors, Thompson had been offered a choice between jail and military duty—recall his last, very funny, and totally fictitious press release, copied to AP and UPI, about a drunken barracks-room brawl. Some recollections feature animals: the monkey Thompson drank with in bars, the Brazilian coatimundi he trained to use the toilet. When a friend asked Thompson to please wear a tie to his outdoor wedding reception, Thompson sent instead a goat wearing a necktie, tethered to the party lawn when guests arrived. Many recollections feature speed of various kinds, knives and guns, flamethrowers and fire extinguishers. Rolling Stone editor Jann Wenner makes clear the magazine's debt to Thompson's energy and talent, and his own tolerance level for Thompson's self-combusting personality:
The first time he puled the fire extinguisher trick on me was one night in 1973 in my house in San Francisco, when we were sitting around taking acid. It was two or three in the morning; the fire was going; Joni Mitchell was on the stereo. Hunter was fussing around doing something, and I was listening to the music and quietly drifting. Hunter took this fire extinguisher sitting in the corner, aimed, and opened up on me. It's like an explosion of chalky dust, and it's quite unpleasant, especially if you have a head full of acid. 
---
Daybook is contributed by Steve King, who teaches in the English Department of Memorial University in St. John's, Newfoundland. His literary daybook began as a radio series syndicated nationally in Canada. He can be found online at todayinliterature.com.