Humor, drama, and history on the links.
---
By Mark Frost
The David-and-Goliath story of a match that changed American golf. Francis Ouimet, a young working-class amateur, takes on six-time British Open champion Harry Vardon, the inventor of the modern grip and swing, at the 1913 U.S. Open. The story is anything but predictable, mixing history, biography, and page-turning golf commentary into a seamless whole.
---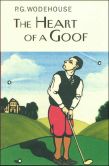 The Heart of a Goof
By P. G. Wodehouse

Golf is known as the gentleman's game, and who better to write about it than the eminent gentleman himself? In The Heart of a Goof, Wodehouse delivers nine short stories set on the fairway with his signature acerbic wit — profiling golf-obsessed buffoons and the ladies who tolerate them.
---
By John Updike
Updike, a devoted golfer, gathers together 30 favorite pieces on the game from 1959 to 1995: essays both serious and silly, short fiction turning on the game's many frustrations and fleeting moments of elation, and an instruction-book parody. Particularly delicious is a stitched-together trio of golf episodes from his acclaimed Rabbit Angstrom novels.
---
By Billy Mott
Mott didn't start writing until age 36, but his long experience as a caddy pays off with this tough, mesmerizing, and cliché-free debut novel. A former golf phenom who stopped playing due to a freak accident slowly discovers — 20 years later — that he can somehow still swing a club competitively.
---
The Bogey Man: A Month on the PGA Tour
By George Plimpton
Plimpton spends a month on the professional tour, going up against Arnold Palmer, Jack Nicklaus, and the imaginary Japanese admirals in his head that kept screaming instructions. Far more impressive, though, is Plimpton's ability to showcase the psychology of the game with highly entertaining, often hilarious honesty.