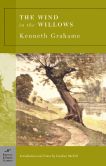 On this day in 1907 Kenneth Grahame wrote the first (or the first extant) of a series of letters to his son, Alastair, describing the Toad, Rat, Mole, and Badger adventures that eventually became the children's classic The Wind in the Willows. Grahame had been inventing such bedtime stories for several years and the letter, occasioned by his being separated from Alastair on his seventh birthday, picks up what seems to be a continuing tale:
Have you heard about the Toad? He was never taken prisoner by brigands at all. It was all a horrid low trick of his. He wrote that letter himself — the letter saying that a hundred pounds must be put in the hollow tree. And he got out of the window early one morning, & went off to a town called Buggleton, & went to the Red Lion Hotel & there he found a party that had just motored down from London, & while they were having breakfast he went into the stable-yard & found their motor-car & went off in it without even saying Poop-poop!
Alastair was an only child, born blind in one eye and with a squint in the other. Grahame's biographers describe his son as both spoiled and neglected, and conclude that his death at age nineteen was most likely a suicide, brought on by his handicap and his anxiety over being unprepared for adult life. The biographers describe Grahame himself as one trapped in a banking career and a loveless marriage, able to only imagine the Open Road. In a letter to his eventual publisher, he longingly describes his book as being one "of life, sunshine, running water, woodlands, dusty roads, winter firesides, free of problems, clear of the clash of sex, of life as it might fairly be supposed to be regarded by some of the wise, small things 'that glide in grasses and rubble of woody wreck'" (the quotation is from a George Meredith poem).
---
Daybook is contributed by Steve King, who teaches in the English Department of Memorial University in St. John's, Newfoundland. His literary daybook began as a radio series syndicated nationally in Canada. He can be found online at todayinliterature.com.