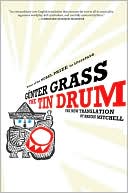 Günter Grass was born on this day in 1927, in Gdansk (then Danzig), Poland, where he is now an honorary citizen — though just barely. Several years ago, Grass revealed that as a teenager he had been a member of the Waffen-SS, a Nazi division especially condemned at the Nuremberg Trials. Coming after decades of outspoken anti-Nazi pacifism, the disclosure had many beating the drum to revoke Grass's citizenship of Gdansk, where so many Nazi atrocities were committed. In an article for Slate, Christopher Hitchens suggested that Grass's confession, made in Peeling the Onion, the first volume of his autobiography, was a calculated attempt to attract readers, and the last straw:
"Let those who want to judge, pass judgment," Grass said last week in a typically sententious utterance. Very well, then, mein lieber Herr. The first judgment is that you kept quiet about your past until you could win the Nobel Prize for literature. The second judgment is that you are not as important to German or to literary history as you think you are. The third judgment is that you will be remembered neither as a war criminal nor as an anti-Nazi hero, but more as a bit of a bloody fool.
Peeling the Onion admits to at least the folly of a teenager overwhelmed by dreams of patriotic glory. Those dreams survive the confusion of training camp, "the all-consuming need for a ladle of soup and a crust of army bread." But they are shattered by the nightmarish experience of first battle, an aerial barrage survived by hiding under a tank:
Still wobbly on my feet, I was assaulted by images. The birches looked as if they had been broken over somebody's knee…. There were bodies everywhere, one next to the other and one on top of the other, dead, still alive, writhing, impaled by branches, peppered with shell splinters…. The survivors were either crawling here and there or, like me, rooted to the spot. Some wailed, though not wounded. I made not a sound; I just stood there in my piss-soaked pants, staring at the innards of a boy I had been shooting the breeze with.
When an officer, "the very picture of a newsreel hero such as we schoolboys had been fed from the screen for years," strides through the carnage barking counterattack commands, Grass finds him ridiculous; but fear had become "a pack I could not throw off," and the recruit falls in line.
---
Daybook is contributed by Steve King, who teaches in the English Department of Memorial University in St. John's, Newfoundland. His literary daybook began as a radio series syndicated nationally in Canada. He can be found online at todayinliterature.com.