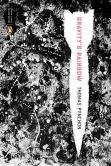 On this day in 1973 Thomas Pynchon's Gravity's Rainbow appeared, causing among the critics the sort of wonder and mayhem that begins the novel, as a V-2 rocket slams into 1944 London: "A screaming comes across the sky. It has happened before, but there is nothing to compare it to now…." The New York Times described its publication as "an event [that] breaks seven years of silence and allays the fear that [Pynchon] might never go beyond his early success." Reviewer Richard Locke also warned that the novel was "bonecrushingly dense, compulsively elaborate, silly, obscene, funny, tragic, pastoral, historical, philosophical, poetic, grindingly dull, inspired, horrific, cold, bloated, beached and blasted." Members of the Pulitzer Prize advisory board echoed the "obscene," added "unreadable," and rejected their jurors' unanimous recommendation that Pynchon receive that year's award.
Gravity's Rainbow did share the National Book Award that year, though Pynchon declined to appear at the ceremony. The likelihood of Pynchon's absence prompted Tom Guinzburg of Viking Press to organize a joke that has become legend in publishing and banqueting — the appearance of the stand-up comic Professor Irwin Corey (a.k.a. The World's Foremost Authority), who accepted the award on behalf of Pynchon, or perhaps someone like him:
However…I accept this financial stipulation — ah — stipend in behalf of Richard Python for the great contribution which to quote from some of the missiles which he has contributed… Today we must all be aware that protocol takes precedence over procedure. However you say — WHAT THE — what does this mean…in relation to the tabulation whereby we must once again realize that the great fiction story is now being rehearsed before our very eyes, in the Nixon administration…indicating that only an American writer can receive…the award for fiction, unlike Solzinitski whose fiction does not hold water. Comrades — friends, we are gathered here not only to accept in behalf of one recluse — one who has found that the world in itself which seems to be a time not of the toad — to quote Studs TurKAL. And many people ask "Who are Studs TurKAL?" It's not "Who are Studs TurKAL?" it's "Who AM Studs TurKAL?"
---
Daybook is contributed by Steve King, who teaches in the English Department of Memorial University in St. John's, Newfoundland. His literary daybook began as a radio series syndicated nationally in Canada. He can be found online at todayinliterature.com.