The history, craft and voice of the six-stringed heart of American music.
---
By Allen St. John
Guitar god Eric Clapton had been on master guitar craftsman (and retired rural mail carrier) Wayne Henderson's waiting list for a decade before Henderson finally got started working on the rock legend's special order. Allen St. John chronicles the guitar maker's process, giving us a rare portrait of a painstaking genius and his methods of coaxing sonic beauty out of wood and metal.
---
By Tim Brookes
His guitar wrecked by airport baggage handlers, NPR Weekend Edition commentator Brookes sets off to find the perfect replacement. What he discovers is a fascinating ticket into pure Americana; from the arrival of conquistadors to the cultural and musical revolutions of the Fifties and Sixties. This highly personal history captures the way the guitar has come to symbolize America's restlessness and expressive spirit.
---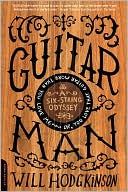 Guitar Man: An Amateur Strummer's Journey of Discovery
By Will Hodgkinson
All writer Will Hodgkinson wants is to learn to play the guitar passably enough to perform live. He gives himself six months to learn, but it's not all done with the pick in hand: in the course of his musical studies he travels the globe talking to guitar legends (Johnny Marr, Roger McGuinn) and soaking in the history of the Mississippi Delta and other legendary musical locales.
---
By Steve Waksman
This crash course on the historical and cultural significance of the electric version of the instrument puts the essentials — sex, drugs, and rock 'n' roll — right at its amplified heart. Steve Waksman begins in the thirties, with the evolving guitar's galvanizing effect on blues, and country, going on to chart what would emerge as rock. Along the way he riffs on the lives of some of the most influential electric players, including Muddy Waters, Chuck Berry, and Jimmy Page.
---
By Les Paul and Michael Cochran
Les Paul, who died at 94 last summer, began the experimentation which would climax in his creation of the first solid-body electric guitar when he was a 13-year-old boy growing up outside of Milwaukee. His fertile mind spawned not only hit songs (recorded with his wife and musical partner Mary Ford) but many other inventions, such as multi-track recording, that changed the art and business of music-making permanently. Here, the "Wizard of Waukesha" puts a tuneful life into words.