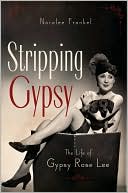 May 21: The musical smash-hit Gypsy opened on Broadway on this day in 1959. The bestseller upon which the show is based, Gypsy Rose Lee's memoir Gypsy, tells her life as a rags-to-naked success story, though one with a price. The book's opening snapshot is of Lee on the last stop of her sixth and final farewell tour, posing for a gawking crowd and presenting a show that must go on:
Unlike most Rolls Royces, which are a sedate black, mine, made to order when I was playing the London Palladium, is maroon and gray with my initials on the door in gold. Twenty-seven pieces of luggage, including five Siamese cats, in two plastic dome-time carriers, a guinea pig, and two turtles in a fish bowl were being unloaded from the car…. The press photographer had thoughtfully brought along a toy-sized suitcase which I held in one hand. The other hand held my skirt, lifted to garter line. …I didn't need a crystal ball to see why a crowd had gathered.
A few paragraphs later, lest any not know her trade, Lee clarifies: "H. L. Mencken called me an ecdysiast. I have also been described as deciduous. The French call me a déshabilleuse. In less-refined circles I'm known as a strip teaser." Mencken had coined "ecdysiast" in 1940, in response to a letter from another famous stripper, Georgia Sothern, who wrote to him with "the hope that the science of semantics can find time to help the verbally underprivileged members of my profession." "I sympathize with you in your affliction," replied Mencken. "It might be a good idea to relate strip-teasing in some way to the … zoological phenomenon of molting … which is ecdysis. This word produces … ecdysiast."
Sothern, aka "The Human Dynamo," was notorious for stripping to "Hold That Tiger," in a rip-roaring, hip-shaking style that had her out of her exoskeleton faster than most molters. But she loved the word and promoted it widely — so widely that Lee, in an interview later that year, publicly declared her refusal to dress her art in such Menckian clothes: "Ecdysiast, he calls me! Why, the man … has been reading books! Dictionaries! We don't wear feathers and molt them off…. What does he know about stripping?"
---
Daybook is contributed by Steve King, who teaches in the English Department of Memorial University in St. John's, Newfoundland. His literary daybook began as a radio series syndicated nationally in Canada. He can be found online at todayinliterature.com.