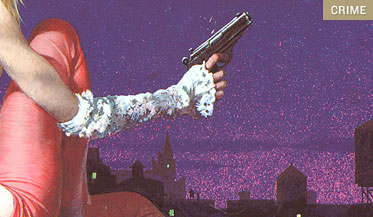 A man whose name breaks into the anagram "Richard Aleas" was clearly born to write mysteries, and Charles Ardai does not disappoint. The author of two superb novels as Aleas and one under his own moniker, Ardai is making a name (or two) for himself as a rising star in the mystery field. But Ardai doesn't just write crime fiction. He also publishes it, as the founder and head of Hard Case Crime, one of the most lively and interesting new publishing houses to come along in recent years. In these days when book publishing has been consolidating into faceless conglomerates, Hard Case is a welcome throwback, an artisanal shop devoted to a single product: the pulp fiction that was popular when Eisenhower was president, Wally and the Beav capered on people's new television sets, and H-bomb tests were obliterating Pacific atolls.

Hard Case publishes both new novels and reissues of neglected chestnuts by the likes of Day Keene and Ed McBain, but its look is proudly and defiantly retro — so much so that their striking cover art makes Hard Case books jump off the rack at you. Each one features an original painting in the classic lurid style of the cheap paperbacks of yesteryear. This visual signature typifies the attitude of the entire publishing venture: Hard Case argues for crime fiction as a genre worthy of respect, but of a particular kind. Unlike Quentin Tarantino, whose reverence for violent B-movies verges on parody, and unlike a stuffy collector who would treat crime novels as cultural artifacts to be stored in the literary equivalent of a museum case, Hard Case Crime celebrates the living energy of hard-boiled storytelling. Just as a modern blues musician innovates within a form that privileges influence and imitation, so does Ardai publish neo-noir fiction that's both strongly contemporary and aesthetically connected to its forbears.

Hard Case has published 50 books to date, with Ardai's self-consciously titled Fifty-to-One as the 50th. Fifty-to-One is a tour de force of rule-driven storytelling: the titles of the previous 49 Hard-Case books provide the chapter titles for this one. That is, the first chapter is called "Grifter's Game," after the first book published by Hard Case, with the second Hard Case novel, Fade to Blonde, providing the title to chapter 2, and so on, all the way to the book's eponymous chapter 50. Ardai has thus challenged himself to write a coherent story that threads through 50 disparate titles — like a parent who's asked to tell a bedtime story involving, say, a lighthouse, a pincushion, and a mouse named Bergamot, only on a vaster scale.

Amazingly, Ardai pulls it off. Fifty-to-One is a self-reflexive romp in the lighthearted hard-boiled style made popular by the likes of Donald Westlake and Lawrence Block (in his Burglar series). Fifty-to-One adds a historical patina (the book is set exactly 50 years ago) and turns on a narrative gesture worthy of the most high-toned postmodernism: it's a novel about writing books. The story centers on a young line dancer who writes a crime novel to make extra money. When her story about robbing the Mob becomes the outline for an actual copycat crime, the mobster who got robbed naturally fingers the young author as his number one suspect (she came up with the plan, he reasons, so she's the one who must have carried it out). The novelist and her publisher become targets who are chased by criminals and police all over the city. Who knew that putting out crime novels could become such a risky business?

Fifty-to-One is great fun, but it's not typical of Ardai, or Hard Case. Ardai's previous two novels, Little Girl Lost and Songs of Innocence (written under the Richard Aleas pen name), create a version of the hard-boiled that's rougher than convention once allowed, but which nonetheless keeps faith with the controlled emotional aesthetic of classic hard-boiled fiction.

The two Aleas books feature the same detective, a reluctant gumshoe named John Blake who has a weakness for damaged young women. Blake is an ex-English major who's more likely to get beaten up than to land a punch. He's just like Raymond Chandler's Philip Marlowe in this respect, and indeed, Little Girl Lost is an homage of sorts to Chandler's 1943 classic, The Lady in the Lake. Acting from a protectiveness reminiscent of Marlowe, Blake goes looking for the murderer of his first girlfriend, a woman he hadn't seen in years, because "Someone had to stand up for people like Miranda." The journey takes him into the grimy corridors of the so-called exotic dance business that she had chosen. Songs of Innocence goes even deeper into the skin trade, as another Blake investigation of a woman friend's death leads him into the world of erotic massage. As the title suggests, he loses his own innocence in the search for hers.

Ardai has his own voice, but it's a voice that's been tuned to the hard-boiled cadences of more than a half century ago. No one would ever mistake John Blake for Philip Marlowe. Though younger, Blake has a darker and more troubled soul. But like Marlowe, he perseveres. Like Dashiell Hammett's Sam Spade, he's willing to throw the proverbial monkey wrench into the works to see what happens. And in the style of the greats, Ardai delivers evocative urban settings and gutshot climaxes that leave emotional residue after the plot problems resolve and evaporate. Ardai's sentimental side is always in view (and sentimental keepsakes figure prominently in all of his books so far), but he writes with the emotional economy of the best hard-boiled fiction.

Ardai used the Richard Aleas pseudonym because he owns the Hard Case joint. He dropped the pen name when his talent made it clear that he wasn't using his publishing house as a personal vanity press. That press is now publishing some of the best crime fiction around. Fifty-to-One is a terrific ride that zooms past Little Girl Lost, Songs of Innocence, and 47 other worthy entries in the catalog. Long may Hard Case run.