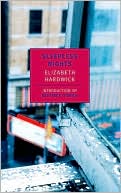 The American novelist and critic Elizabeth Hardwick was born on this day in 1916. In 1963 Hardwick co-founded the New York Review of Books, which promised readers in an introductory note that it would waste no time or space "on books which are trivial in their intentions or venal in their effects, except occasionally to reduce a temporarily inflated reputation or to call attention to a fraud." Four years earlier, in a Harper's article titled "The Decline of Book Reviewing," Hardwick had expressed her disgust with contemporary literary journalism more pointedly:
In America, now…a genius may indeed go to his grave unread, but he will hardly have gone to it unpraised. Sweet, bland commendations fall everywhere upon the scene; a universal, if somewhat lobotomized, accommodation reigns. A book is born into a puddle of treacle; the brine of hostile criticism is only a memory. Everyone is found to have "filled a need," and is to be "thanked" for something and to be excused for "minor faults in an otherwise excellent work." "A thoroughly mature artist" appears many times a week and often daily; many are bringers of those "messages the Free World will ignore at its peril."
The first NYRB issue featured unpaid contributions by many of the famous writers in Hardwick's circle — Mary McCarthy, Alfred Kazin, Norman Mailer, Susan Sontag, John Berryman, Gore Vidal, Robert Lowell, and others. Hardwick's article for the first issue, a discussion of Ring Lardner, shows that she was willing to give deserved praise, and that she could turn a phrase:
In a country like ours where there will necessarily be so much journalism, so much support of the popular, the successful, we are naturally unusually grateful when we find the genuine among the acceptable. And with Lardner there is something more: he made literature out of baseball, the bridge game, and the wisecrack. Of course he was terribly funny, but even in his funniest stories there is a special desolation, a sense of national emptiness filled by stupidity and vanity…. He wrapped his dreadful events in comic language, as you would put an insecticide in a bright can.
---
Daybook is contributed by Steve King, who teaches in the English Department of Memorial University in St. John's, Newfoundland. His literary daybook began as a radio series syndicated nationally in Canada. He can be found online at todayinliterature.com.