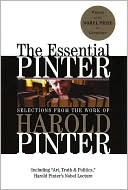 Harold Pinter was born on this day in 1930. For a Nobel laureate, a Companion of Honour (he turned down the knighthood), and a recipient of Europe's top theater awards (the Shakespeare, the Olivier, the Pirandello, the Moliere …), Pinter had a rough start. The Birthday Party, his first professional production in 1957, got not just bad but mocking reviews and closed after a week. When the unsuspecting Pinter arrived late for the Thursday performance, he tried to rush past the usherette to a seat:
"Where are you going?" she said. "To the dress circle," I said. "I'm the author." Her eyes, as I recall, misted over. "Oh, are you?" she said. "Oh, you poor chap. Listen, the dress circle's closed, but why don't you go in, go in and sit down, darling, if you like, go on." I went into the empty dress circle and looked down into the stalls. Six people were watching the performance….


The above is from Michael Billington's authorized 1996 biography, which portrays Pinter as an individualist from an early age, one not likely to quit or be swayed by criticism. Billington also makes much of Pinter's experiences as a child-evacuee during WWII, as if his uprooting — "There was," says Pinter of these years, "no fixed sense of being … of being … at all" — gave him a taste for the adrift, menacing, semi-reality that he would put in his plays. The following is from The Homecoming, the play that made Pinter and the "Pinteresque" famous; at this moment in Act One, Lenny attempts to clear his sister-in-law's glass and the bottom falls out of the family reunion:
LENNY. You've consumed quite enough, in my opinion.
RUTH. No, I haven't.
LENNY. Quite sufficient, in my own opinion.
RUTH. Not in mine, Leonard.

Pause.

LENNY. … Just give me the glass.
RUTH. No.

Pause.

LENNY. I'll take it, then.
RUTH. If you take the glass … I'll take you.

Pause.

LENNY. How about me taking the glass without you taking me?
RUTH. Why don't I just take you?