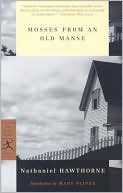 Nathaniel Hawthorne's Mosses from an Old Manse was published on this day in 1846. For students of nineteenth-century American literature and thought, the Old Manse in Concord, Massachusetts, now a museum, is almost in the same class as Thoreau's Walden cabin. The house belonged to a branch of the Emerson family, and Emerson arranged for Hawthorne to rent it when he married in 1842. His story collection, written while living in the house over the next three years, is prefaced by "The Author Makes The Reader Acquainted With His Abode," a welcoming tour in which Hawthorne walks us through the study where Emerson wrote "Nature," one of the seminal Transcendentalist texts, and into the garden Thoreau planted as his gift to the newlyweds. Gazing out at Thoreau's work clearly put Hawthorne in a fathering mood:
Childless men, if they would know something of the bliss of paternity, should plant a seed — be it squash, bean, Indian corn, or perhaps a mere flower, or worthless weed — should plant it with their own hands, and nurse it from infancy to maturity, altogether by their own care…. My garden, that skirted the avenue of the Manse, was of precisely the right extent. An hour or two of morning labor was all that it required. But I used to visit and re-visit it, a dozen times a day, and stand gratified by deep contemplation over my vegetable progeny, with a love that nobody could share nor conceive of, who had never taken part in the process of creation.
But Concord, as Susan Cheever's 2006 group biography puts it, was the American Bloomsbury, and the notoriously private Hawthorne struggled with the social crop. He goes on to write that it was good to meet Emerson himself "in the wood-paths, or sometimes in our avenue, with that pure, intellectual gleam diffused about his presence, like the garment of a shining-one"; and important not to meet those who clung to Emerson's coattails — the "young visionaries," the "gray-headed theorists," the "uncertain, troubled, earnest wanderers" who came to Concord to sit by their master's "intellectual fire":
Never was a poor little country village infested with such a variety of queer, strangely dressed, oddly behaved mortals, most of whom took upon themselves to be important agents of the world's destiny, yet were simply bores of a very intense water.
---
Daybook is contributed by Steve King, who teaches in the English Department of Memorial University in St. John's, Newfoundland. His literary daybook began as a radio series syndicated nationally in Canada. He can be found online at todayinliterature.com.