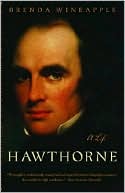 Nathaniel Hawthorne died on this day in 1864, and Emily Dickinson's funeral took place on this day in 1886. Henry Wadsworth Longfellow graduated from Bowdoin College with Hawthorne and was a lifelong friend; below are the last verses from "Hawthorne," his poem recalling the funeral day at Sleepy Hollow Cemetery, Concord — the town "white with apple-blooms," the dappled sunlight "shot through with golden thread":
Now I look back, and meadow, manse, and stream
Dimly my thought defines;
I only see — a dream within a dream —
The hill-top hearsed with pines.

I only hear above his place of rest
Their tender undertone,
The infinite longings of a troubled breast,
The voice so like his own.

There in seclusion and remote from men
The wizard hand lies cold,
Which at its topmost speed let fall the pen,
And left the tale half told.

Ah! who shall lift that wand of magic power,
And the lost clew regain?
The unfinished windows in Aladdin's tower
Unfinished must remain!
The memoirs of those present at Dickinson's funeral also noted the springtime apple blossoms, these appearing to match some of the poet's other funeral wishes: a simple dress of white flannel, a white casket, only a few closest friends and family members attending the home service, a bier of pine boughs and sand violets, the procession going out the back door and crossing a lawn, wrote Thomas Wentworth Higginson in his diary, "full of buttercups and violet & wild geraniums." At the service, Higginson read one of Dickinson's favorite poems, Emily Brontë's "No Coward Soul Is Mine," and sister Lavinia Dickinson put a bunch of violets, two heliotropes, and a pink orchid in the casket for Emily "to take to Judge Lord." The famous "Called Back" epitaph on Dickinson's second, current tombstone was chosen by niece Martha Dickinson Bianchi. Dickinson had enjoyed Hugh Conway's popular novel Called Back, published a few years earlier, and she had used the phrase in her last letter.
---
Daybook is contributed by Steve King, who teaches in the English Department of Memorial University in St. John's, Newfoundland. His literary daybook began as a radio series syndicated nationally in Canada. He can be found online at todayinliterature.com.