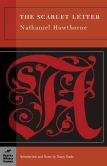 Nathaniel Hawthorne's The Scarlet Letter was published on this day in 1850. Although Hawthorne's claim of having discovered in his Salem Custom House not only the historical records of adultery but a red, three-inch letter A was a literary device, it was not pure fiction. Among his seventeenth-century ancestors were two sisters who had been forced to sit in the Salem meetinghouse wearing forehead bands identifying their incestuous conduct; also in the family tree was a judge at the witch trials. The Scarlet Letter was also inspired by Hawthorne's general feeling that his hometown was a place of gloom and convention, itself a punishment: "Methinks all enormous sinners should be sent on pilgrimage to Salem," he wrote in 1840, "and compelled to spend a length of time there…. Such a punishment would be suited to sinners that do not quite deserve hanging, yet are too aggravated for the States-Prison."
Hawthorne's attempts to escape Salem included a short stay at Brook Farm, the Transcendentalists' utopian community outside of Boston. Although at first invigorated by the new thinking and fresh air, he soon found himself permanently volunteered to the manure pile, and reflecting that "a man's soul may be buried and perish under a dung-heap, or in a furrow of the field, just as well as under a pile of money." He returned to his "haunted chamber" in Salem, and to renewed hope of making a living by writing.
Despite his predictions that The Scarlet Letter would "weary very many and disgust some," it was immediately popular, and Hawthorne left Salem, rarely to return, with this good riddance: "I detest this town so much that I hate to go into the streets or to have the people see me. Anywhere else, I shall at once be entirely another man."
---
Daybook is contributed by Steve King, who teaches in the English Department of Memorial University in St. John's, Newfoundland. His literary daybook began as a radio series syndicated nationally in Canada. He can be found online at todayinliterature.com.