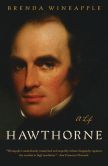 Nathaniel Hawthorne's "The Minister's Black Veil" was first published on this day in 1836. Hawthorne was thirty-one at the time and virtually unknown; nor did the now-famous story help much. Looking back fifteen years later, after a measure of success with The Scarlet Letter, Hawthorne recollected a two-decade apprenticeship during which he wrote with no "reasonable prospect of reputation or profit" and became "the obscurest man of letters in America." Deservedly so, he seems to say in his Preface for a new edition of Twice Told Tales:
Whether from lack of power, or an unconquerable reserve, the Author's touches have often an effect of tameness; the merriest man can hardly contrive to laugh at his broadest humor; the tenderest woman, one would suppose, will hardly shed warm tears at his deepest pathos. The book, if you would see anything in it, requires to be read in the clear, brown, twilight atmosphere in which it was written; if opened in the sunshine, it is apt to look exceedingly like a volume of blank pages.
In a footnote to "The Minister's Black Veil," Hawthorne cites the life of a Reverend Joseph Moody of York, Maine, who wore a black veil out of guilt for having killed a friend in childhood. Rick Moody's The Black Veil (2002) is a memoir structured by his attempt to track his connection to a relative known as "Handkerchief" Moody and to peer behind the curtain of his own demons. Moody's journey begins with a moment that recalls Hawthorne's "I look around me, and, lo! on every visage a Black Veil!": on a New York subway platform he encounters a man hidden within his black hoodie:
[T]he sudden appearance that day of a man who entirely concealed his face from his community should not have been entirely astonishing. But it was.… Was he badly disfigured? Did he haunt the far end of the platform like an untouchable, secreting himself to spare me the horror of his appearance? Was he driven by hallucinatory voices? Was he evading pursuers, was he on the lam, having ratted out some crime syndicate? And what's in a face, anyhow, except the uncomplicated story of a man? What's in a face that makes it the nail on which we hang our ideas about people?
---
Daybook is contributed by Steve King, who teaches in the English Department of Memorial University in St. John's, Newfoundland. His literary daybook began as a radio series syndicated nationally in Canada. He can be found online at todayinliterature.com.