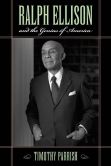 Ralph Waldo Ellison was born a hundred years ago today. In the 2012 biography Ralph Ellison and the Genius of America, Timothy Parrish argues that "no one, including Ellison's namesake Ralph Waldo Emerson, has ever told us more than Ellison did about what it means to be an American and to be committed to democracy as a living civic ideal." The evidence for this claim, says Parrish, is based not just on Ellison's novel Invisible Man but a lifetime of social commentary, including a 1970 essay published in Time magazine entitled "What America Would Be Like Without Blacks." Ellison's essay wonders why, in either historical or imaginative form, "the fantasy of a blackless America continues to turn up…like a boil bursting forth from impurities in the bloodstream of democracy." After surveying the black American contribution to language, culture, and history, Ellison concludes by arguing that black America represents the nation's best chance to realize its fundamental ideology and self-image:
Without black Americans, something irrepressibly hopeful and creative would go out of the American spirit, and the nation might well succumb to the moral slobbism that has always threatened its existence from within.… The nation could not survive being deprived of their presence because, by the irony implicit in the dynamics of American democracy, they symbolize both its most stringent testing and the possibility of its greatest human freedom.
---
Daybook is contributed by Steve King, who teaches in the English Department of Memorial University in St. John's, Newfoundland. His literary daybook began as a radio series syndicated nationally in Canada. He can be found online at todayinliterature.com.