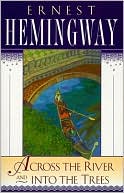 September 7: Ernest Hemingway's Across the River and Into the Trees was published on this day in 1950, several months after the novel had finished its serialization in Cosmopolitan magazine. Trying to capitalize on Hemingway's longest period of writer's block, the magazine used the tagline, "Here it is—the novel for which the world has waited ten long years!" Instead of finding a polished masterpiece or anything resembling a return to form, the critics dismissed with "pity and embarrassment" the book's "self-parodying style and theme."
The following passage is from mid-way through the story, when Colonel Cantwell, a dying fifty-year-old, is crossing the canals of Venice on a cold night with the teenaged Renata and a bottle of champagne. Cantwell kisses Renata "until there was nothing left of the kiss but desperation," and then he kisses her "worse than desperation." Against all odds and self-advice, he then makes for shore:
The wind was very cold and lashed their faces but under the blanket there was no wind nor nothing; only his ruined hand that searched for the island in the great river with the high steep banks.

"That's it," she said.

He kissed her then and he searched for the island, finding it and losing it, and then finding it for good. For good and for bad, he thought, and for good and for all.
Afterwards, and after "reaching accurately and well for the champagne bucket with the ice," Cantwell pours Renata a drink: "This is good for you, Daughter. It is good for all the ills that all of us have, and for all sadness and indecision." Then they do it all again.
Among those inspired to parody by such prose was E. B. White; below, a few sentences from "Across the Street and Into the Grill":
This is my last and best and true and only meal, thought Mr. Pirnie as he descended at noon and swung east on the beat-up sidewalk of Forty-fifth Street. Just ahead of him was the girl from the reception desk. I am a little fleshed up around the crook of the elbow, thought Pirnie, but I commute good….
---
Daybook is contributed by Steve King, who teaches in the English Department of Memorial University in St. John's, Newfoundland. His literary daybook began as a radio series syndicated nationally in Canada. He can be found online at todayinliterature.com.