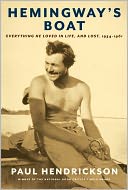 I can easily picture, with my own share of his glee, the enormous smile that must have brightened the face of Paul Hendrickson when he first crystallized his brilliant conceit for organizing his new account of the last thirty years of Ernest Hemingway's life: to use Hemingway's beloved and intimately essential cabin cruiser Pilar as the polestar of the narrative. No wan symbol or factitious theory to serve as blinkered Virgil, but instead a tactile, intensely documented, sensual, action-crammed vessel (the boat hosted some five hundred visitors, famous and otherwise, in its lifetime) that would carry a rich cargo of story.
And Hendrickson's faith was not misplaced. To switch metaphors, the utilitarian yet graceful lines of Pilar form a sturdy armature for the sculpture of Hemingway that Hendrickson hews from the marble of history in Hemingway's Boat. Thanks to Hendrickson's insights, his laborious research (often conducted out in the present-day world, visiting surviving relatives of the main and bit players from Hemingway's epic), and his sturdy, cannily wrought, often lyrical prose, the famed novelist comes alive again in uncluttered, fresh dimensions, vividly at the helm of his boat once more. Hendrickson's attitude and approach are neither idolatrous nor defamatory, but journalistically impeccable while registering heartfelt subjective assessments of Hemingway's self-destructive yet undeniably heroic life.
Hendrickson begins his tale in 1934, upon the return of Hemingway and second wife Pauline from Africa, with boat-builder's brochure in pocket. The writer's desire for a splendid fishing craft of his own is abetted by a $3000 loan/advance from Arnold Gingrich at Esquire magazine. Before we know it, we're heaving off from Key West for Cuba, with weird tag-along wannabe writer Arnold Morse Samuelson onboard. (Samuelson and his backstory get an entire empathetically delivered chapter to himself, and it's revelatory and great.) Adventures at sea and wild escapades on the island of Bimini follow, and yet by midpoint of the book it's still only 1939, a disproportionate milestone, indicating to the reader that the subsequent twenty years of Hemingway's life will hardly match these glory days.
After a brief survey of Hemingway's childhood love of boats and fishing, Hendrickson dives into the post-WWII era, bringing us exciting insights derived partly from Hendrickson's affable and interrogatory friendship with Walter Houk, one of the few extant survivors from this period, friend and confidante to Hemingway. We see Hemingway ailing from numerous afflictions, angrily plotting his (failed) comeback with Across the River and into the Trees. Then the Indian Summer twilight triumph of The Old Man and the Sea, followed by the near-fatal plane crashes of 1954 and the long decline to the inevitable, harshly lit suicide. Hendrickson devotes much space wisely to the Papa-doomed fates of Hemingway's sons and second wife. And of course Pilar herself emerges as a full-bodied character. Hemingway's ultimate forced separation from his adored boat and the freedom she represented is a true parting of lovers.
What is most astonishing about this book is the visceral contemporary quality that Hendrickson manages to confer on ancient history. At times, the events come across as if we were reading this week's issue of People magazine, following the tabloid exploits of some ecstasy-popping, bed-hopping, young literary wunderkind. Dry hagiography this book is not.
Hendrickson quotes Norman Mailer's sentiment about son Gregory Hemingway's memoir of Ernest: "For once you can read a book about Hemingway and not have to decide whether you like him or not. He is there. By God, he exists." Much the same can be said of this honorable and exciting tribute.
---

Paul Di Filippo's column The Speculator appears monthly in the Barnes & Noble Review. He is the author of several acclaimed novels and story collections, including Fractal Paisleys, Little Doors, Neutrino Drag, and Fuzzy Dice.