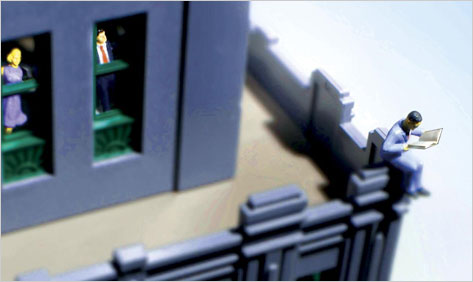 A generation from now, when we pick up our flex-tablets or digi-goggles or whatever and read about literature at the turn of the twenty-first century, there's a decent chance we'll see it referred to as the David Shields era. In his 2008 book, Reality Hunger, the novelist delivered a signature statement on exhausted "realist" fiction, overly manicured narratives, and the authenticity of "truthiness." And he did it in audacious fashion, constructing the book out of borrowed scraps that he freely claimed as his own because, well, what was authorship anyway? Renata Adler, Jonathan Lethem, W. G. Sebald, and other metafictionists had tinkered with these notions, but Reality Hunger cannily compressed them, giving them a loose but coherent critical form.
Shields's book captured the imagination of not just literary readers but a lot of people who distrusted the idea of "facts" — how many literary critic/small-press novelists score segments on Colbert? There was a flaw in Reality Hunger, though, suggested in its subtitle: It is "a manifesto," which is the name you give a book when you're angry enough about something to agitate about it at length but haven't marshaled the evidence to back it up. To that end, Shields's refreshing, bemusing, at times exasperating follow-up, How Literature Saved My Life, could have easily been titled Reality Hunger: A Defense. He's clearly heartened by the enthusiasm for his ideas, and here he's eager to show how they play out without sacrificing the digression, self-awareness, and immediacy he privileges in the first place.
What does Shields want out of literature, exactly? "I want to feel as if, to the degree anyone can know anyone else, I know someone — I've gotten to this other person." "I want the writer to be trying hard to figure something out." "I want work that, possessing as thin a membrane as possible between life and art, foregrounds the question of how the writer solves being alive." In a word, candor — art without artifice. You'll note the lack of fist-pounding in those sentences: As agitators go, Shields is so genial and passionate — his frustration with what he's called the "furniture" that clutters the conventional novel runs bone deep — that it's easy to want to meet him halfway. With this book, as with Reality Hunger, you come away wondering why so many novelists busy themselves building their scrims of metaphor, walls of plot, barricades of style.
Better, Shields has some recommendations. Tucked in the center of How Literature Saved My Life is list of fifty-five works that have inspired him, topped (alphabetically and otherwise), by Adler, whose 1976 novel, Speedboat, so exemplifies the cracked storylines and integration of the personal that he's read it two dozen times and copied it out twice. (His actions on behalf of Speedboat are timely: The novel, along with Adler's follow-up, Pitch Dark, will be reissued by New York Review Books in March.) Beyond Adler, there are classics of digression (Moby-Dick), books that rip the masks off fiction writers (John Cheever's Journals), essayists-as-confessors (Geoff Dyer, Terry Castle), and novels that blur the line between fiction and autobiography (Ben Lerner's Leaving the Atocha Station).
But How Literature Saved My Life isn't exclusively a casebook of next-generation authorship; it is also a book that strives to be in itself the kind of literature it argues for. Shields details his twentysomething lusts, his stutter, his marriage, and his odd reading habits (he'll sometimes read a book backward), all woven around a sadness that he hopes literature can yank him out of but so rarely does. These confessions often have an urgency that reflect his passion for the personal and affirm that his search for it is more than a hobby. "Am I missing the narrative gene?" he asks, frustrated with himself. But as with any old-fashioned memoirist, the line between openness and self-martyring can get a little shaky. "Some people seemed to think I was the Antichrist because I didn't genuflect at the twin altars of the novel and intellectual property (there's an oxymoron if ever there was one)," he writes, and he consistently displays an impatience with art that lacks a "visible string to the world." It's revealing that many of the novels he celebrates, from Speedboat to Atocha Station to Amy Fusselman's The Pharmacist's Mate, barely crack 200 pages.
What Shields has been lobbying for is a sex-on-the-first-date abandon in literature — writing that's intimate, a little emotionally arrogant, and in a hurry. But in that sense, How Literature Saved My Life sometimes feels less like an argument for the future of literature than a defense of a literature of a particular type: The stories Shields admires most are the cris de coeur about how often storytelling falls short. That can be an entertaining, illuminating ride to go on, but it's just one ride. "I love that feeling of being caught between floors of a difficult-to-define department store," Shields writes. But that's a troublesome metaphor for literature: If you're stuck between floors, don't you eventually want out?