1. D'Angelo, Black Messiah (RCA). With whirling cries, moans, shouts, fadeaways, then more moans, more cries—the sound of lost souls finding themselves—the first track, "Ain't That Easy," opens a door to the secret room behind Sly and the Family Stone's "Thank you for talkin' to me Africa" on the 1971 There's a Riot Goin' On. The song at once proves that no one has caught up with that music, and that it's fallen to D'Angelo to make the follow-up album—a notion perhaps confirmed here with the "Side A" / "Side B" configuration of the then standard twelve LP tracks, each keyed with the sound of a needle dropping into the opening groove. It's a promise immediately fulfilled with "1000 Deaths," where a social context Riot sketched in shadows explodes all over the place: a funk beat builds over a preacher calling down the fight between Jesus and the Devil, crowds gather, speakers try to tell them what to think, voices are distorted beyond comprehension, then something like a chorus emerges, the hands-up raised arms on the album cover come to life, leaving the listener stranded between then and now, uncertain if the words make any difference. There is no center here, no fixed point around which the songs revolve—each one calls up its own time and place, and then takes its place in some greater song. You begin to drift into the pleasure of the music, its delight in a blinking stroll down the street, everything in a half-light, the ordinary miraculous.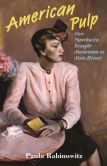 2. Paula Rabinowitz, American Pulp: How Paperbacks Brought Modernism to Main Street (Princeton). In this unfailingly fascinating study, one image stood out, in its way far more vulgar than the lurid covers for the likes of Fletcher Flora's Leave Her to Hell! ("She went too far—too often"), Martha Gellhorn's Liana, or Irving Schulman's The Amboy Dukes: the jacket for the 1948 Bantam edition of John Hersey's Hiroshima. Against an orange sky, a couple, both dressed exactly like middle-class or professional Americans, walks down the road, a woman with long, light-brown hair hanging her head, a brown-haired man looking back at standing buildings and an undamaged American car. It's blackface in reverse, whiting out inconvenient dark people, not to mention reconstructing a vaporized city while keeping the specter of doom hovering in the title, and the result is a complete absurdity: The shocking true story of Americans caught in a firestorm meant to save them!
3. Murder Vibes, Murder Vibes (murdervibes.com). From Seattle, with computer beats by Jordan Evans, vocals and guitar by Peter Hanks, and play-it-all-day-long irresistible once you're sucked into its miasma. Remember Alphaville, the moody German synth band who got their "Forever Young" into every high-school graduation in the land by the end of the eighties? This is the Alphaville they'll be playing at funerals where nobody comes.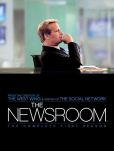 4. The Newsroom, "What Kind of Day Has It Been?" (HBO, December 14, 2014). The last episode, set around the funeral for network president Charlie Skinner (Sam Waterson), but serried with flashbacks: "Name that tune," says Skinner as Jeff Daniels's anchor Will McEvoy walks into his office and Skinner snaps off his desktop boombox. It's Tom T. Hall's "That's How I Got to Memphis." Skinner's grandson has a band: "So, I was at their house last weekend, wandered out to the garage, saw Beau teaching 'That's How I Got to Memphis' to his friend, so I asked him, 'Why's a kid from New Rochelle singing about Memphis?' He said, 'Memphis is a stand-in for wherever you are right now. It really means, that's how I got here.'"
Later, after the service, Daniels talks with Jared Prokop's Beau, picks up a guitar, and begins the song. Beau, who looks uncannily like a sixteen-year-old Ricky Nelson, comes in on stand-up bass; John Gallagher, Jr.'s reporter Jim Hall picks up a guitar too. They walk through the song like a road they've walked over and over without ever failing to find something new along the way. It may be corny. It may be a restaging of the Howard Hawks scene where the cast becomes a family through a song. It's a tough, beaten piece of fatalism: a great song.

5. One Republic, "Counting Stars" (Mosley/Interscope). This has been all over the radio for more than a year, and every time I hear it the plug-in moral catchphrases ("Everything that kills me makes me feel more alive") sound more earned, the desire in Ryan Tedder's voice more real. It's the whiplash in the rhythm—the song never leaves you in the same spot long enough to register it.

6. Bob Dylan, Shadows in the Night (Columbia). Dylan approaches Sinatra the way he slipped into the old blues and folk songs of Good as I Been to You and World Gone Wrong more than twenty years ago: like someone putting on clothes older than that that still fit. It's the Sinatra of The Manchurian Candidate and No One Cares, with the singer in his trench coat and fedora sitting at a bar looking at his drink while the party swirls on all around him; it's the Dylan of "You Belong to Me" on the soundrack of Natural Born Killers, fingers rubbing a magic lamp, but not hard enough to release the genie, because then the song would be over. But hard enough to turn Sinatra's 1963 movie theme "Stay with Me," written for Otto Preminger's The Cardinal by Jerome Moross and Carolyn Leigh, back into Stephen Foster's "Hard Times."
7. Mannequin Pussy, Gypsy Pervert (mannequinpussy.bandcamp.com LP or cassette). It may be under twenty minutes but there are ten albums here. Singer and guitarist Marisita Dabeast, drummer Drew Adler and second guitarist Athanasios Paul like music, and they have the unforgiving punk spirit the Kills lost just like that.

8. Harvey Kubernik, Turn Up the Radio! Rock, Pop, and Roll in Los Angeles 1956-1972 (Santa Monica Press). A golden-age coffee table book, and memorable for all sorts of left-field comment, as with the writer Daniel Weizmann on Phil Spector: "Phil was born on Christmas Day in 1940. But I see him as the first truly post-Holocaust American Jew. He refused to grovel and play the Borscht Belt guy, the entertainment guy. Yes, he had one foot in that old world grandiosity. His music was for the new utopian, free-spirited teenagers, but it also contained the secret mania of having grown up with the shadow of genocide and the bomb. He meant business. In a way, he is the link between Lenny Bruce and Bob Dylan."
9. Rolling Stones, "Gimmie Shelter," as used in preview for The Gambler (Regal Union Square Theater, New York, December 17). As the song helicoptered over desperate characters, you could imagine none of them had ever heard it before: every note had grown new tentacles, which wrapped around themselves as the song played. Maybe the producers somehow got their hands on the real, occult version of the song, hidden for forty-five years—or maybe the uncanniness of the sound was right there in something the old-time fiddler Tommy Jarrell once said: "Ain't nobody mastered the fiddle. There's notes in that fiddle ain't nobody found." But it didn't seem to be a new mix—there was nothing like this in the online version of the trailer. It had to be the sound system in the theater—so ten days later I went back to see how the song worked in the movie. It wasn't in the movie.

10. Better Call Saul, episode one, directed by Vince Gilligan (AMC, February 8). The show—Albuquerque lawyer with a haircut he hasn't heard went into a museum before he asked for it who makes ambulance chasing sound like white shoe—is fine. But the black-and-white lead-in with a middle-aged man working in a Cinnabon—who's either got an eye for a hunk who's got an eye for him, or who's hiding under a false name and has just been clocked—is the best film noir since Ellen Barkin's black-and-white lead-ins to Theme Time Radio Hour.