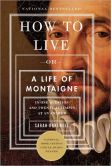 If you don't know how to die, don't worry; Nature will tell you what to do on the spot, fully and adequately. She will do this job perfectly for you; don't bother your head about it.… If we have not known how to live, 'tis injustice to teach us how to die, and make the end difform from all the rest; if we have known how to live firmly and quietly, we shall know how to die so too.
–Michel de Montaigne, who died on this day in 1592; in How to Live (2010), Sarah Bakewell's biography of Montaigne structured around "One Question and Twenty Attempts at an Answer," the author describes the excerpt above, from the essay "On Physiognamy," as Montaigne's "most fundamental, most liberating answer to the question of how to live"
---
Daybook is contributed by Steve King, who teaches in the English Department of Memorial University in St. John's, Newfoundland. His literary daybook began as a radio series syndicated nationally in Canada. He can be found online at todayinliterature.com.