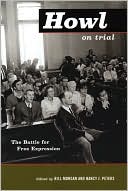 March 25: On this day in 1957, U.S. Customs agents seized 520 copies of Allen Ginsberg's Howl on the grounds of obscenity. Ginsberg had given the poem its first, legendary reading a year and a half earlier, at Six Gallery in San Francisco. In the audience were many later-famous Beat writers, among them Jack Kerouac, thumping on his wine jug and shouting "Go, Go," at the end of every long line. After the reading Kerouac told Ginsberg he was going to be famous all over San Francisco, with Kenneth Rexroth correcting this to "famous from bridge to bridge." Lawrence Ferlinghetti, already running City Lights Bookstore at this point (and ninety-one years old yesterday), sent Ginsberg a telegram offering to make the fame happen: "I greet you at the beginning of a great career. When do I get the manuscript?" This was an echo of Emerson's famous letter to Walt Whitman a century earlier, praising Leaves of Grass.
It was Ferlinghetti's edition of Howl that was confiscated, leading to a trial that October — before a judge who was a Sunday school teacher, and who had recently been in the news for sentencing five shoplifters to a screening of The Ten Commandments. Nonetheless, it was soon clear that the prosecution had little response to the long line of scholars and critics who testified to the literary importance of Howl — many comparing it in importance to Leaves of Grass — and the judge's ruling was unequivocal:
I do not believe that "Howl" is without even "the slightest redeeming social importance." The first part of "Howl" presents a picture of a nightmare world; the second part is an indictment of those elements in modern society destructive of the best qualities of human nature; such elements are predominantly identified as materialism, conformity and mechanization leading toward war…. It ends in a plea for holy living…. In considering material claimed to be obscene it is well to remember the motto: "Honi soit qui mal y pense" [Evil to him who thinks evil].
---
Daybook is contributed by Steve King, who teaches in the English Department of Memorial University in St. John's, Newfoundland. His literary daybook began as a radio series syndicated nationally in Canada. He can be found online at todayinliterature.com.