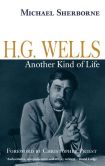 For the normal man, as we have him today, his personal unity is a delusion. He is always fighting down the exposure of that delusion. His first impulse is to rationalize his inconsistencies by telling himself fanciful stories of why he did this and that. The tougher job, which all men and women will ultimately be educated to undertake, is to recognize the ultimately irreconcilable quality of these inconsistencies and to make a deal between them.
–from Experiment in Autobiography by H. G. Wells, born on this day in 1866
The above excerpt prefaces Michael Sherborne's recent H. G. Wells: Another Kind of Life,which explores the multiple and sometimes irreconcilable aspects of the authors many books, views, and passions. Sherborne's first chapter begins by imagining Wells stepping from one of his own time machines into a twenty-first-century library after closing hours:
He begins to leaf briskly through the twenty-first-century newspapers and reference books. He is delighted by what he learns of women's liberation, globalization and scientific progress, taking particular pleasure in television, space travel, lasers, atomic power and the growth of the ecology movement. He nods as he reads of the wars and religious upheavals that have run alongside these developments. It is all much as he expected. "I told you so," he chuckles, "you damned fools."
---
Daybook is contributed by Steve King, who teaches in the English Department of Memorial University in St. John's, Newfoundland. His literary daybook began as a radio series syndicated nationally in Canada. He can be found online at todayinliterature.com.