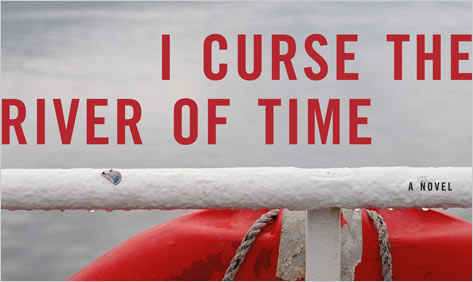 The past is always commingled with the present. Normally this layering feels, even in the uncanny moments, like a pleasing echo—the harmony of what was with what it is. As a parent is dying, however, time's score can become an unraveling dissonance. It certainly is so for Arvid Jansen, the thirty-seven-year-old hero of Per Petterson's new novel. Dealing with his mother's imminent demise requires him to act like an adult; facing her loss makes him, irrevocably, into a child.
I Curse the River of Time traces the tension between these two movements with a lugubrious, Norwegian resonance. As in Petterson's IMPAC-winning novel, Out Stealing Horses, the story swallows itself as it goes. Jansen's mother is diagnosed with cancer in 1989; he narrates the story from some distant point in the future; and the book circles back toward Jansen's childhood, as if to discover, in his recollections, a clue to why he never has entirely grown up.
Jansen's mother, no doubt, is part of the problem. She looms large in this tale, like one of the bruising fathers of Russell Banks' novels. Stern, staunchly intelligent, unbowed by hard factory labor, she views her sons—of whom there are three, once four—as spoilt children, to whom everything was handed. After her diagnosis is revealed she lights up a cigarette. Then she books passage on a night-ferry to Denmark and the summer home of Arvid's childhood. It is November and bitterly cold.
Petterson is a beautiful writer, but it would have been a stretch to call him amusing until now. Jansen's mishaps make it a funny book, though. He drinks himself into paranoia on the ferry and gets into a fight. He shows up at his mother's cottage, broke, with a bottle of too-expensive French whisky. "I heard your thoughts clatter all the way down from the road," his mother calls out. Jansen peels off to sulk in a rowboat and plunges accidentally into the sea. He falls out of a tree. He nearly cuts his leg off trying to chop wood.
Quite a bit of this behavior, incidentally, will ring bells for readers who have buried a parent. The drinking, the lurching gestures of goodwill, the swells of narcissism and the guilt which follows, the fear of the loss (and how the mundane creep of illness mocks that fear to a froth), the quicksand of the past, the out-of-body weirdness, the sudden appearance of long-lost family friends. The rage and the sorrow and the regret—but mostly, the regret.
Petterson keenly understands, too, that approaching a grief like this doesn't make us better; it only makes us more ourselves. As we fall back into Jansen's memories, he emerges as an awkward, needy boy who cried at movies and flung himself dumbly at Communism in his young adulthood to impress his mother. He even gets a factory job to become a better communist. I Curse the River of Time, the book's title, comes from a poem by Mao, whose portrait Jansen hung above his bed alongside those of Bob Dylan and Joni Mitchell.
Similarly, flinging himself into this journey is what, as a son, Jansen feels he ought to do when a mother is sick. The longer Jansen stays, though, the more he realizes he has once again inserted himself back into her life. He works hard to have meaningful moments, and at last they come by accident. One night—after Jansen has already slept off the worst of his previous hangovers—he and his mother drink whiskey on the house deck. She won't admit to being afraid of dying. "But damnit, I don't want to die now," she says.
There have been other novels like this one—Andrew Miller's Oxygen and, further back, William Wharton's Dad. Both revolve around a parent's demise and its gravitational, warping pull. But neither of them portrays time in quite so ambitious a way. Petterson has spoken of his debt to Faulkner, and it is manifest in the best possible manner here: the looping, backward swirl of his sentences, the feeling that the past is never past.
Even still, few writers have captured the way a parent's death feels personal. An extension of prior betrayals, it can seem like the final one. These are not a son's finest moments. Flailing, drunk, self-absorbed, it's hard to warm up to Jansen. He wants desperately to be acknowledged. It's impossible not to feel for him, though. And to want to say, stay still: the worst is yet to come.
---
John Freeman is the author of The Tyranny of E-mail, and the editor of Granta.