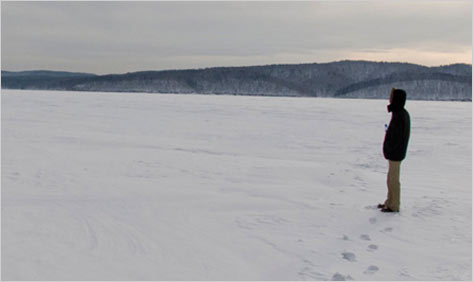 Maybe there should be blind taste tests for literature just as there are for wine: Does knowing the vintage affect the flavor? Does knowing the genre affect the reading?

If the word memoir had been blacked out on the cover of I Hate to Leave This Beautiful Place by Howard Norman, best known as a novelist (The Bird Artist; The Museum Guard), would I have thought it fiction — and not felt slightly troubled at every implausibility that brushed by? It doesn't matter that it doesn't matter; it's like light seeping in through the door crack as you watch a movie: a minor distraction that nonetheless breaks the spell of a willing suspension of disbelief. The entire experience moves on that quiet mechanism.

In five loosely linked essays (he calls them "overlapping panels of memory and experience") — differing themes called forth by place and occupation, from youth as a librarian's assistant in a Michigan bookmobile to first love in Nova Scotia to collecting oral histories in Arctic villages to the mature adventures of a wide-ranging writer in Vermont, Washington, D.C., and Point Reyes, California — Norman constructs new life from the old one's plangent fragments. That is what a memoirist does: select from bricks that are ready-fired in the kiln of actuality. The peculiar act of creativity in nonfiction is to choose and juxtapose, to end with a running bond or a Flemish cross. Character, especially the narrator's, is among those bricks. A suspicion that they too have been manufactured by the author casts doubt on the whole endeavor: maybe those string courses weren't laid one on top of the other. Maybe they came from the factory in slabs.

Certainly Norman has had more than his share of extraordinary material handed to him by life, "incidents of arresting strangeness" all right. His father, a no-account swindler, had left home; for California, his mother said. But during his fifteenth summer, Norman spotted him eleven times — lounging at the counter of the local drugstore in Grand Rapids. He contacted his son only once, to strong-arm the boy out of some cash he'd won in a radio station giveaway. The author was able to re-create their dialogue — some four pages' worth, meaning the diary he kept in those days must have been scrupulous, befitting a future writer — to show himself as preternaturally self-possessed, a master of sarcasm.

A similarly forged armor of self-protection is manifested in the consummate poetic control evident throughout every section (each, like a stanza, employing refrain and echo). This carefully wrought quality extends from the level of sentence — and there are some lovely ones — to that of action, which is when it starts to feel possibly too well controlled. The tender filaments of poetry start snapping when we are forced to wonder, Really? He returns to a crime scene, which also happens to be his home. At 5:30 in the evening, gripped by an immediate need to sit down before his Olivetti, he begins writing to friends — "all told, perhaps thirty letters, the briefest five single-spaced pages and some as long as twenty." He breaks for dinner at 3 a.m. I break for a calculator. Really? He's cranked out a minimum of 150 pages, but possibly twice that. Norman is no mere memoirist; he is a superhero of the typewriter.

Yet, infrequently, he lets down his writerly guard to display a flaw. When he does, as in a haunting episode that concerns the death of a swan, it is almost a relief: here, we sense, is a real brick. There is its ragged edge, singed black. Only going through true fire yields that.

More heightened extraordinariness is on the way, though. The young woman he might have married is the only passenger in a fatal plane crash. It is what comes next that causes the reader to startle out of the reverie induced by Norman's lullaby of prose, and perhaps reach for a calculator again. At age twenty, with $80 to his name, he misses a job interview to be a bellhop because he stumbles into an art auction and ends up bidding four grand for a bird painting. Moreover, he refuses an offer to return the painting for resale, instead settling on a payment plan of $500 a month — this, in 1969, on a janitor's salary. His monthly rent is a tenth that. Grief (and a kindly benefactor) goes only so far to explain his action; there seems to be something rather large unspoken here. Particularly when he quickly raises his hand at yet another auction. $2,250 later, he's the happy owner of a new bird painting.

Possibly because that episode had rendered me alert, I heard another false note in the background: the retailing, in a snippet of conversation with the doomed girlfriend, of the Woodstock festival canard that if you remembered being there, you probably weren't. A mere two months after the event, the joke could not have been cooked through yet. "The novels I was reading at the time deftly orchestrated implausibilities along a clear narrative line, but I could not locate such a line in my own life," he writes. He has fixed that now.

Howard Norman is known as a writer of exceptional understatement (also for giving the people in his books strikingly odd names), in plenteous evidence here. This quality lends the work an insistent — almost incantatory — charm. Not to mention the built-in lure of curiosity: What could possibly happen to this guy next? The final piece most shockingly proves the introduction's contention that his life is replete with "unceremonious hauntings." Perhaps to ensure a steady supply, he kept throwing himself off the cliff of fate, impetuously but also with the swagger of a hero. If this Portrait of the Artist as a Young Clint Eastwood had gone Joyce all the way, "semi-autobiographical" could have replaced "memoir" on the cover. Without the distractions of a label, we can better taste the wine. Not every one has to be varietal. Sometimes you just want a nice literary blend.