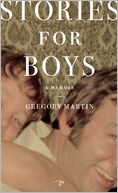 "The last thing my father ever wanted was to be a character in a melodrama. He did not want to step on stage at sixty-six, his hair gray, a small paunch over his belt, and play the tragic lead. He wanted to drink Coca-cola and watch Jeopardy! and listen to The Kingston Trio, to bowl and play cribbage with my mother, to read science fiction novels and watch movies with explosions, to work as a speech pathologist in a nursing home, helping the elderly to speak again and swallow soft foods like yogurt and rice pudding." — Gregory Martin, Stories for Boys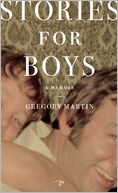 Dear Reader,
The Discover selection committee readers weren't the only folks bowled over by Gregory Martin's memoir new memoir, Stories for Boys — Cheryl Strayed, Pam Houston and Antonya Nelson have all weighed in with high praise for this candid memoir of family secrets and fathers and sons.
Martin discusses when memoirs go wrong, the unravelling of secret lives, writing about family (and how much children need to be told), among other things, with Discover Great New Writers.
Stories for Boys is filled with heartbreaking moments where we see how a marriage and a family come apart after 39 years. But the book is also filled humor as well as vivid optimism. Was this a conscious choice for you as a writer?

It was a conscious choice, especially after I had some distance from the initial events. When memoirs go wrong, they usually do so because they're too raw, too unfiltered; they lack perspective and insight. Instead of drama, you get melodrama. Especially when memoirs are about subjects like incest and suicide, most of all, they lack humor—which is understandable. But no reader wants to stay too long, much less hundreds of pages, in those dark places. There needs to be variation in tone, a wide range of emotional attitudes. There's a quote I love from Christopher Fry who said, "Comedy is not an escape from truth, but from despair." Humor lets the reader come up for air.

The best stories inflict suffering upon the reader. They make the reader hurt—emotionally, psychologically—in a way that allows them to empathize at depth. But the best stories, however sad, also have optimism at their core. A belief that the telling and reading—that mutual exchange between author and reader—will be for the good, will enrich life, make it more bearable rather than less so.

The book is about surprising discoveries. What surprised you in the actual writing of the book?

One thing I discovered, and became sort of obsessed with, was just how common it was for people to have secret lives and for those secret lives to unravel. There are a lot more Elliot Spitzers than I had previously thought—that kind of character, both men and women. The sense of I thought I knew you is a feeling many people have about someone they love. This theme became as important in the book as exploring what it meant for me to discover that my father was gay. I became fascinated by the psychology of people who are truly adept at living double lives. I remain in awe of how well my father was able to, on the one hand, be a stable, nurturing presence in my life growing up, be a supportive and loving companion to my mother, and at the same time, have sex with countless anonymous men late at night in city parks and under bridges and in rest area bathrooms out on the interstate. Before my father's suicide attempt and coming out, and before my own attempt to write about it, this kind of behavior would have seemed to me something only the most desperate kind of man would be doing. But no. Far from it. It's not the behavior of a depraved few, but the way thousands of closeted men were attempting (and are attempting still) to somehow express their authentic sexuality, while at the same time living these Ozzie and Harriet, "hey, honey, I'm home!" lives.

Chekhov has that great passage in Lady with a Pet Dog, in which he writes of his main character, Gurov, "And he judged of others by himself, not believing in what he saw, and always believing that every man had his real, most interesting life under the cover of secrecy and under the cover of night." Writing this book made me think, "If that's true of my father as well, to what degree is it true of everyone? To what degree is it true of me?"

I was going to ask you about the social science and pop-culture and literary references, like the many sections about Walt Whitman. Can you talk about how they work in the book?

One of the challenges of the memoir as a form is to connect the personal with the historical, the singular story of a life or a family with the larger culture. So writing about Walt Whitman's poems about his homosexuality that he published and then, in later editions, cut from Leaves of Grass, was one way I was trying to connect my father's life and struggles to a voice from the past, expressing similar struggles.

But I was also interested in my mother's resilience. As well as my own. My father survived his suicide attempt, so what now? How do we all move forward? Asking these questions in life and in the writing led me to studies about "the psychological immune system," and including some of this in the book allows the reader to consider the tragic circumstances of the story from a more detached perspective, and to come up for air in a way very different from using humor. It also allows the reader to see the ways I was coping and moving forward, by hitting the stacks, going to the literature, and so it characterizes me more deeply as a narrator. And finally, I'm just not a very linear thinker. I can't really help it. I've tried to write more conventionally, less associatively, and I get bored and it just doesn't work. In the books I return to the most, I love the tangents and digressions, that sense of knowing the play and movement of another person's mind. As long as the tangents take me somewhere and deliver me back, I'm willing to go pretty far afield.

You wrote about your relatives in your first book Mountain City. And now with Stories for Boys, your father, mother, wife and children are central characters. How has this gone over for you, writing about your family?

With Mountain City, I think my family found it validating that people as far away as New York City thought that their little remote town of 33 people was a worthy subject for literature. I thought there might be a problem when Publisher's Weekly characterized my uncle Mel as "the town drunk," but when I called Mel to talk to him about it, his complaint was that he wasn't the onlytown drunk. He wouldn't have minded if he were described as "a town drunk." His problem was with the use of the definite rather than the indefinite article, which gives you a sense of his self-deprecating humor and humility, which I was counting on.

Writing Mountain City gave me confidence, and a sense of how to go about it—with compassion and humor—when it came to writing about my family in Stories for Boys, where the stakes were higher and the story darker and tragic. Both of my parents read multiple drafts of the book and were generous and candid about really painful things. Christine was not thrilled that I was writing about our family life, but she wanted the book to be as good as it could be, and she knew that there had to be conflict and it had to be dramatized, and she was extremely helpful in letting me know when I was letting myself, or other characters, off too easy. In early drafts, I tend to pull punches, but I've come to believe that it's more compassionate to fully depict people as they are, as complexly as possible, and to allow the story and the reader to hold them accountable for their choices and actions. In doing so, they become more sympathetic, not less. That's the hope anyway.

What about your boys? Some writers refuse on principle to write about their children. Did you have reservations?

I did have reservations, and there were scenes in which the boys were dramatized that I ended up cutting because, in the end, I thought they were too personal. My boys couldn't weigh in on their characterizations and those moments, the way my father and mother and Christine could and did. But I couldn't just leave the boys out. This is a book about fathers and sons, and boyhood is one important thread: my father's boyhood, my own, my sons'. The story of how my boys come to learn about what has happened to their grandfather is one of the principal themes of the book and one of the central questions is: what should children know? How much should we tell them?

I'm taking the long view, hoping that the boys will read this when they're older, when they're young men, and in doing so, have a better sense of their father and grandfather, and what we all went through. Because if I hadn't written it all down, there's just no way I would have been able to share it with them. I wouldn't have remembered it. Not nearly enough. It would have been mostly lost, which is one ironic understanding I've come to as a memoirist. I have no faith in memory.

Can you talk about a book that influenced you in the writing of Stories for Boys? Is there a book that you looked to as a model for what you were trying to do?

I read and re-read So Long, See You Tomorrow, by William Maxwell, which is a wonderful book about many things, but it's especially about a longing for the past, that longing to go back to the way things were before. It's also a book about trying to understand the motivations of others—and explicitly using storytelling as a means to do that. In Stories for Boys, I wanted to acknowledge my longing for my old understanding of our family, while at the same asserting my preference for the truth, however shocking or upsetting—for knowing things as they are.

Who have you discovered lately?

Mark Sundeen's The Man Who Quit Money, published this past spring, is a remarkable, inspiring book. It's about a man named Daniel Suelo, who gave up money more than ten years ago. He lives in a cave in Utah, near Moab, but he's not a hermit or a religious nut. He's college educated, a former Peace Corps volunteer. Suelo has friends, volunteers at a shelter, blogs from the library, but also dumpster dives and is an accomplished scavenger. The book itemizes how Suelo pulls all this off, and it explores his choices without glorifying them or sentimentalizing. It's the best kind of profile, full of insight and humor and questions about capitalism and our relationship to money.

This past year I loved Elif Batuman's The Posssessed: Adventures with Russian Books and the People Who Read Them. Batuman is hilarious. I may never get around to reading Anna Karenina or War and Peace, but at least I've visited Tolstoy's kooky utopian commune with Batuman as my guide. And finally, I devoured The Sister's Brothers by Patrick DeWitt. It has the sensibility of a Coen Brother's movie, the plot is gripping, and it's set in the Old West in a way that feels new. I'm jealous of people who haven't read that book who get to read it for the first time.
Cheers, Miwa
---

Miwa Messer is the Director of the Barnes & Noble Discover Great New Writers program, which was established in 1990 to highlight works of exceptional literary quality that might otherwise be overlooked in a crowded book marketplace. Titles chosen for the program are handpicked by a select group of our booksellers four times a year. Click here for submission guidelines.