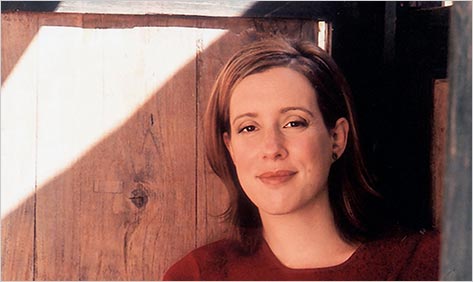 Editor's Note: This month's Reading Romance comes from special guest contributor Julia Quinn. Eloisa James will return in May.

Ten or so years ago I was a judge in an online romance writing competition sponsored by my publisher, Avon Books. On a whim, I decided to enter an anonymous sample of my own writing, and — I kid you not — ten minutes after uploading my chapter, someone left the comment, "If this isn't Julia Quinn, I'll eat my hat."

I was stunned (and delighted). Was my writing so distinctive that a reader could recognize it from an anonymous ten-page sample? Apparently so. But I'm not alone in this. It's not easy to describe an authorial voice, but there are some authors you could recognize anywhere…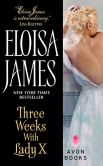 Three Weeks With Lady X
By Eloisa James

I could recognize Eloisa's writing from her grocery list, and not just because I know she's fond of chocolate and cheese. There is something almost musical to her prose; it's bawdy and tender and always surprising. In her latest novel, Lady X is actually Lady Xenobia India St. Clair (India to her friends), a once-impoverished gentlewoman who has made a life for herself as a professional organizer. India charges a fortune for her services, redecorating rooms and hiring butlers, but ask any grande dame of the ton — she's worth it. But even India has second thoughts when she agrees to help the dangerously handsome Thorn Dautry win his chosen bride by redoing his new country home from top to bottom. The two are perfectly matched, as evidenced by the arch and witty messages that go back and forth as she readies the estate. Antagonism gives way to grudging respect, which gives way to friendship and desire, but India and Thorn must learn to put the ghosts of their childhoods behind them in order to truly fall in love. This is Eloisa James at her best, and that is saying quite a lot.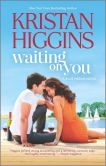 Waiting on You
By Kristan Higgins

They say you never get over the "one who got away," but what if the "got away" part is more like "dropped you like a rock and never looked back?" That's how Colleen O'Rourke feels about Lucas Campbell, the boy who stole her heart in high school, and then, after four years of bliss and a couple months of a mixed-up breakup, left her for a so-nice-you-can't-even-hate-her billionaire's daughter. But life is always more complicated than one sees on the surface, and when Lucas returns to town to be with his dying uncle, the sparks between Colleen and Lucas don't just rekindle, they burst into flame. Here's the crazy thing about reading a Kristan Higgins book: it's almost like reading…me. Seriously. If I ever gave up Regency historicals and tried my hand at contemporary romance, I'm pretty sure it'd sound a lot like Kristan Higgins. Our characters talk a little (a lot) more than they should, and their antics occasionally veer into farce, but underneath it all, they are complex and imperfect and above all, people you'd like to have as friends.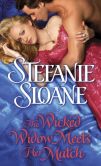 The Wicked Widow Meets Her Match
By Stefanie Sloane

It might be cheating to include Stefanie Sloane on a list of authors whose voices I find instantly recognizable. Stefanie and I live in the same city and try to get together at least once a week for a power walk and coffee (or if it's raining, which it frequently is, just the coffee). Add in years of phone calls, and you get someone I know so well that it's impossible for me not to hear her on every page of her wonderful novels. The wicked widow of the title is Lady Grace Crowther, whose life took a terrible turn when her father gambled her away in a card game, forcing her to marry a merciless doctor with ties to an underworld gang. Langdon Bourne is the Earl of Stonecliffe and a member of the Young Corinthians, an elite espionage organization. When Grace's husband is murdered, she becomes the key to a dangerous plot…and the key to Langdon's heart. This is a spy story that is brimming with wit, intelligence, and passion.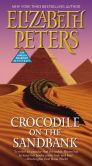 Crocodile on the Sandbank
By Elizabeth Peters

In this classic, the first of a long and wonderful mystery series, Amelia Peabody is a thirty-two-year-old self-proclaimed spinster in late-Victorian England. After ten years of caring for her ailing father, she finds herself in possession of a surprisingly substantial inheritance and decides to indulge her passion for archaeology and travel to Egypt. Here is where I confess that I'm not much of a mystery reader, and I'm not even much interested in archaeology. But I love the Amelia Peabody series. Why? In a word, Amelia. Her first person narration is so arch, so dry, and so rippingly witty that you will be snorting your tea right along with the characters (who all drink tea; they're very English, after all). Consider: "Though I had slept only a few hours, I felt quite fresh and full of ambition. Righteous indignation has that effect on my character." Or: "No woman really wants a man to carry her off. She only wants him to want to do it." But Amelia does get swept away, by one Radcliffe Emerson, the dashingly handsome, occasionally bullheaded archaeologist she meets in Cairo. It is not love at first sight. Far from it, but the reader is never in any doubt that these two strong-willed individuals are made for each other.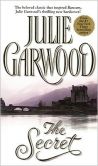 The Secret
By Julie Garwood

No list of distinctive romance author voices would be complete without the one and only Julie Garwood. Tear me a sheet out of any one of her delightful historical romances, and I'll recognize her as the author before I get halfway down the page. Garwood is best known for her medieval romances, and I've always had a soft spot for The Secret. How can you not love a book that opens with: "They became friends before they were old enough to understand they were supposed to hate each other." The English Lady Judith is so devoted to her dear Scottish friend Frances Catherine that she defies all expectations and travels to the Highlands to attend Frances Catherine during her first childbirth. It is on this journey that she meets the gruff Iain Maitland, laird of his clan and a fierce warrior who never expected to like, much less fall in love with, the English lass he's been forced to retrieve for his friend. Judith disrupts Iain's regimented life in every way (usually without even trying), and the result is a love story that will have you smiling for days.
---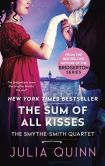 #1 New York Times bestselling author Julia Quinn loves to dispel the myth that smart women don't read (or write) romance, and in 2001 she did so in grand fashion, appearing on the game show The Weakest Link and walking away with the $79,000 jackpot. One of only fifteen members of Romance Writers of America's Hall of Fame, she currently lives with her family in the Pacific Northwest. Her latest novel is The Sum of All Kisses.