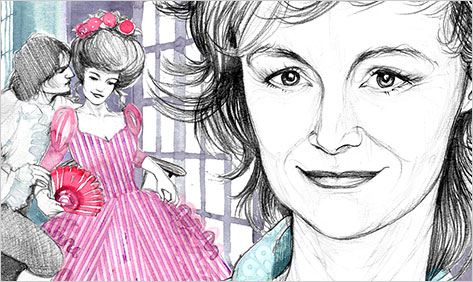 Mark Twain famously defined life as a farce, but personally I'd plump for a narrower definition: love is a farce. As a genre, farce treats the improbable as the possible, so romance is its natural home. Think of the improbability of two halves of the same soul finding each other among the billions clumped together on this planet, and falling in love despite the comic aspects of courtship and sex (bumping noses being the least of it). Courtship is a particularly scripted activity, and the best farce springs not from banana peel pratfalls but from bitingly honest characters being tripped up by romance clichés — and nevertheless relishing the headlong fall into love.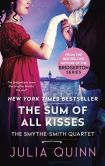 Julia Quinn is, of course, a master of the Regency farce, and The Sum of All Kisses shows her to be at the very top of her game. Lord Hugh Prentice is a generally amiable fellow without violent dislikes, but he makes an exception for the noisy, dramatic Lady Sarah Pleinsworth. The feeling is mutual: Sarah loathes him for engaging in a foolish duel that left him permanently crippled and her family in tatters. Of course, Quinn throws them together. What the reader doesn't anticipate is their frankness. "You don't like me," Sarah exclaims, rather surprised by this discovery. "Not really, no," Hugh replies. Sarah blames Hugh for her lack of a husband, but he retorts with an almost unforgivable truth: "All this time, you've been blaming me for your unmarried state. Did it ever occur to you to look somewhere closer to home?" Quinn takes obvious delight in overturning conventional aspects of romance. Given that Hugh is lame, and Sarah has a sprained ankle, how will they possibly share the requisite waltz in the starlight, signaling to the Regency aficionado that the two are in love? How will Hugh compromise Sarah (another dearly beloved tradition) if he's tied to a bed? I'll leave the rest to your imagination, and the laughter to your future.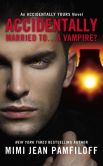 Paranormal romances are often hilarious (how can a book entitled Bear Meets Girl not be funny?), but Mimi Jean Pamfiloff, author of Sun God Seeks…Surrogate, takes farce to a higher level in Accidentally Married to…a Vampire. Like Quinn, she takes an opposites-attract plot and grounds it in the heroine's hilariously frank responses to the situation. Ancient vampire Niccolo DiConti rouses from a 300-year sleep with the task of seducing his human mate into accepting a vampire bite and, incidentally, defeating the Queen of the Damned. Biologist Helene Strauss, who wakes him up while on a Mexican vacation, turns out to be his mate, but convincing the very modern, independent Helene to marry a vampire, no matter how studly? Not so easy. Helena is mouthy, funny, and immune to Niccolo's old-fashioned ideas about proper women's behavior: "What the hell was I thinking? I love the sun. I love my mother and friends. I love pizza and Twinkies! I don't love you!" Frankly, these are the kind of thoughts that often occur to me whenever I read about women happily accepting immortal life in exchange for a blood diet. Accidentally Married offers a world of dizzying silliness (my favorite character is Cimil, Goddess of the Underworld), but Niccolo's and Helene's battle of the sexes is sexy and fun, a book in which hilarious personalities lure us straight past improbable plot devices.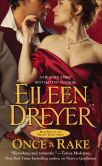 Eileen Dreyer's brilliant Once a Rake is also a comedy of circumstance, though the setting is Regency England rather than modern-day Mexico. Dreyer introduces her heroine, Lady Sarah Clarke, when the lady is doing battle with a love-struck pig, Willoughby, who strays dangerously near a cliff due to being blinded by ears so large that they flap over his eyes. Sarah is a fascinating conundrum: the illegitimate daughter of a duke whose husband has gone missing, leaving her with an idiosyncratic household of crotchety, impoverished aristocrats. Her wry humor is echoed by that of the wounded soldier she finds in her barn: one Colonel Ian Ferguson, accused of trying to assassinate the Duke of Wellington. Ian and Sarah snap at each other with the tartly luscious babble of an Oscar Wilde play, their farce playing out against a panoply of Regency favorites: the eccentric aunt, the terrible cousin, the even more horrendous duke, the amorous pig. The details of this farce are so laughable — when Ian arrives to propose, he brings Sarah a chicken — and the writing so sublime that you will find yourself hardly noticing as a story of enduring love takes you by surprise, giving extravagant silliness a deep truth.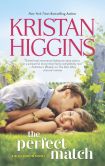 Kristan Higgins is another master at describing a courtship so absurd that the reader winces and turns the pages faster and faster. Her latest novel, The Perfect Match, opens with Honor Holland engaging in her annual birthday ritual: getting a pap smear. As you might guess, Honor is extremely organized, the sort of woman rarely found without a string of pearls and a hair band. Alas, since it's her thirty-fifth birthday, the doctor informs her that her aging eggs are in need of a spouse. So Honor decides to propose to her longtime friend-with-benefits and creates a list that including inspiring "shock and awe." For her proposal, she chooses a classical seductive outfit — naked under a raincoat — in lieu of bended knee. She forgets to remove her plaid hair band, and when she drops her raincoat, she's confronted by her lover's parents. After which she is summarily turned down. Honor reels from humiliation to humiliation as her polite, controlled life collapses around her; a few weeks later it turns out that her best friend and erstwhile lover are engaged. The story is wincingly hilarious, but like the other novels, it's Honor's voice that turns a wince to a shout of laughter: "Do something about it, the eggs said. They were now sporting bifocals and quite irritable. Can you please get a move on here? We're going to bed once Dancing with the Stars is over." Higgins had me giggling out loud in the New York subway, not a location known for hilarity. The Perfect Match is the perfect antidote to a dreary day.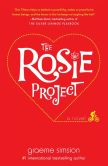 I'm going to end with a novel that made me laugh so hard that the bed was shaking, unfortunately as my husband tried to sleep. Graeme Simsion's The Rosie Project is a literary novel, a farce, and a romance all in one — and like the other novels here, it combines courtship with a brilliant, hilarious character. Don Tillman is an associate professor of genetics who clearly has autism, though he has never bothered to identify why his brain is so different from the norm (as he says, he studies cirrhosis of the liver, and much of his working time is devoted to getting mice drunk). The Rosie Project actually begins with a Wife Project: Don would like to have one, but his attempts at romance have been a disaster. Like Higgins's Honor, Don has trouble figuring out how normal people manage relationships so smoothly. He decides, quite logically, to create a questionnaire including such riveting questions as "Do you eat kidneys?" When Rosie Jarman shows up in Don's office, he mistakenly believes she's a candidate who has filled out the questionnaire. Watching Don move (slowly) from considering Rosie to have "no obvious signs of unsuitability" to being "the most beautiful woman in the world" is an utter delight.

Years ago, when I was a graduate student, a bewilderingly intelligent man showed up for a blind date with a book in hand: The Girl's Guide to Sex. He explained to me that he had marked his favorite chapter, which turned out to be a guide to oral sex. At that time no one was talking about Asperger's, so I simply moved the encounter to the top of a list of Very Bad Dates. I see the past differently now, after laughing helplessly when Don runs back to his hotel room to "get something" — which Rosie thinks is a condom — only to offer a book of sexual positions so that she can choose her favorite…he has practiced all of them with the skeleton in his office.
---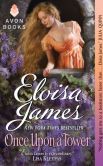 Eloisa James's latest romance is Once Upon a Tower; you can browse all of her books here.

You can check out Eloisa's past columns in the Archives, and if you'd like to get her reactions to romances as she reads them, follow her on Facebook or Twitter.
For sneak peeks at all of Eloisa's romances, please visit her web site at www.eloisajames.com.