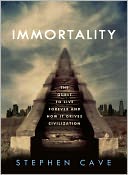 To say that Stephen Cave's metaphysically provocative new book, Immortality, is an extended gloss on the famous Woody Allen joke — "I don't want to achieve immortality through my work…I want to achieve it through not dying." — is both accurate and trivializing. Allen (actually quoted for a different quip in chapter 8) gets full props for succinctly and memorably encapsulating two paths to immortality, those that Cave dubs "Legacy" and "Staying Alive." But the comedian utterly neglects to reference the other two strategies of "Resurrection" and "Soul." Cave, however, considers every possible angle of humanity's eternal anti-death quest in his highly readable treatise. His impeccable, insightful, invigorating chain of reasoning about death and its role as the driving force behind nearly every cultural institution and action in human history leaves no tombstone unturned.
After laying out his clear-eyed and tightly reasoned thesis about the perpetual sting and lash of the "Mortality Paradox" at the heart of human activity (we know we must die, but our personal extinction is literally inconceivable to us), Cave dives right into an examination of the first of the four strategies for the perpetuation of life, "Staying Alive." His approach toward the search for physical immortality blends vibrantly recounted history (the quest by China's First Emperor for an elixir of immortality) with scientific journalism (the prospects of nanotechnology and the transhumanist philosophy). Myths and fiction are also shown in their supportive roles.
The next section concerns "Resurrection." The body dies, but can be reconstituted, good as new — or even better! Of course, Jesus Christ is the paradigm for many adherents of this belief, and Cave provides an empathetic rendering of the early Christian efforts to perfect this credo. That he manages to segue effortlessly into Star Trek and its teleporters (teleportation would actually work by killing and rebuilding, hence is a form of resurrection) is typical of his wide-ranging and inclusive theorizing. Throughout the book, science, religion and art will be shown as separate but allied handmaidens to immortality.
Dante and his poetic oeuvre form the main illustrative artistic thread in the "Soul" chapter, while scientific investigations into consciousness and near-death experiences are arrayed as they seek to prove or disprove the soul's existence from the other side of the intellectual fence. Cave looks separately at Western versus Eastern concepts of the soul, finding both similarities and differences. His merciless dissection of various conceptualized afterlives highlights his understated humor: "The aforementioned theologian Joseph Ratzinger, now Pope Benedict XVI, for example, writes that heaven 'lies neither inside nor outside the space of our world' but rather is 'the new "space" of the body of Christ, the communion of saints.' Well, that clears that up, then."
The final section, "Legacy," begins with a summary of what we've so far discarded: "In chapter 7 we gave up the ghost of a hope that your mind might literally outlive your body and float up to heaven…we also saw earlier that the chances of your dodging the Reaper and staying alive are vanishingly slim and that the idea of physical resurrection is fundamentally flawed." So what of the two kinds of legacy, cultural and biological? Cave has a grand time using Alexander the Great's story as a teaching instance on the limitations of the former, and then he delves deeply into the notion of immortality through progeny and even as part of the planetary consciousness surmised as Gaia. This segment concludes as soberingly as the previous three, with no satisfactory outlets for the Mortality Paradox. "We have now examined all four immortality narratives and seen that none of them has a credible chance of delivering on its promise."
But then, in a final chapter, Cave builds up the Wisdom Narrative, a syncretic creed of mindfulness, stoicism, spirituality and existentialism that he believes can lead to "a civilization of those who face up to their mortality." Having much in common with certain current atheism-based arguments about the moral life without God, Cave's generous, selfless, ultimate lamp on a lurking darkness casts much hopeful light.
---

Paul Di Filippo's column The Speculator appears monthly in the Barnes & Noble Review. He is the author of several acclaimed novels and story collections, including Fractal Paisleys, Little Doors, Neutrino Drag, and Fuzzy Dice.