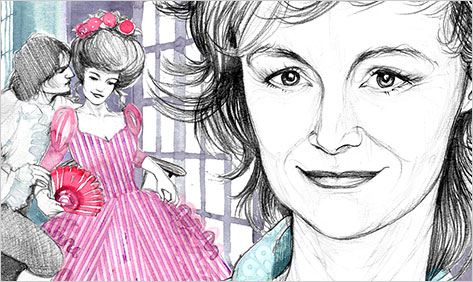 Once in a while everyone looks around at the Regency bucks baring their dangerous smiles, and the fangy vampires whose smiles are plain old dangerous, and thinks: You know, none of these guys are very nice. The average romance hero? Not the boy next door, the guy named Jack who takes out the garbage every night and jumps your car battery in a snowstorm. The man who tends to win the heroine's heart proves his stripes by bedding women, curling his lip at virgins, and generally proving himself to be irresponsible, virile, and likely alcoholic (though bad traits will peel away at the touch of a wedding ring, natch).
How to explain the hero of Nora Roberts's latest wedding confection, Bed of Roses, then? Jack Cooke is an architect who's a remarkably decent fellow. What's more (and even more unlikely) he knows how to be a friend. The average romance hero doesn't tend to have too many female friends — he's too busy slaking his various hungers. Consequently, even though Emma Grant, florist for the wedding company Vows, would love some more romance in her life, she's overlooked her friend Jack. So how does Nora Roberts turn buddies Jack and Emma into a sexy Roberts special? She hits them with a case of desire so sizzling that every thought revolves around the other person. She gives them hot emails and hotter sex, and the book turns into a fantasy about a man who's fun, funny, smart, not obsessed by sports, not afraid to work. He listens to what you say, he doesn't cheat or lie, and he would never call a woman a ho. This is a rarer kind of fantasy, perhaps, but when Jack and Emma dance in the moonlight at the end of the book, I dare you to read the scene without a pang in your heart and a smile on your face.
Terri Garey plays with the conundrum of wicked hero versus decent guy on a bold level by pitting her hero in Silent Night, Haunted Night against Sammy Devine, a sexy, lying devil who is, frankly, the prototype for a lot of heroes. Alas, he really is a devil: "a blond fallen angel with a lust for the flesh, he was hotter than Hell." Terri's heroine, Nicki Styx, finds herself torn between her eminently decent boyfriend, Joe, a doctor with a penchant for saving people, and this hotter-than-hot supernatural visitor. Complicating matters is the fact that a succubus is out for a little revenge on Nicki, and has Joe in her cross-hairs. Nicki is being seduced by Sammy through her dreams, and Joe is being lured into a similar kind of affaire with the otherworldly seductress. How can Joe woutshine the the fallen angel? Well, through decency. As Nicki's sister says, Joe always sees the good in people, even if they're not so good. Joe is a real hero. This is a fascinating romance, and not merely due to the various ghosts and devils running around Atlanta. When the ahh moment arrives at the end of the book, it comes from a surprised, happy realization that honor and decency can trump even the hottest devil.
Both Jack and Joe are exactly what they seem to be: great guys. In the next two novels in this column, the heroes are "Jack-like," but they win their stripes by the ultimate sacrifice: themselves. The hero of Lynsay Sands's Renegade Hunter, Nicholas Argeneau, appears to be the antithesis of a decent fellow: he's a renegade, a vampire who went mad and killed a pregnant woman fifty years ago. Since then, Nicholas has been on the run; but oddly enough, he keeps doing things like rescuing young women, even though he's supposedly a cold-blooded killer. When he saves Josephine Willan, he does it knowing that it might lead to his getting caught and executed for his previous crime. He can save her — or save himself. He chooses her. She returns the favor, and pretty soon they're both on the run. Jo doesn't believe for a moment that Nicholas actually killed a pregnant woman. She looks at him and sees a "Jack," a man so decent that murder simply isn't in his genotype. When Jo is hit by a bullet, Nicholas puts himself in the hands of his jailers to save her. He sacrifices his freedom and potentially, his life, to rescue hers. I doubt you'll be surprised by the conclusion, but I bet you'll be touched, because while Nicholas may be a vampire, Sands's novel celebrates his deep-down decency, not his propensity for blood.
Elizabeth Hoyt's To Desire a Devil features a hero who is accused not of murder but madness. Reynaud St. Aubyn, the Earl of Blanchard, crashes through the door of his house after seven years of captivity among Indian tribes in America. Everyone thinks he's mad, and the man who inherited Reynaud's title after his apparent death quickly moves to have him declared incompetent. But there's one person who doesn't agree — the current title holder's niece, Beatrice Corning. What Beatrice sees is a man suffering from what we now call Post Traumatic Stress Disorder. Reynaud is an angry man, a man who never wants to be imprisoned again, who wants his title, his dignity, and his life back. But the keynote in his character is pure decency. Reynaud humiliates himself in front of parliament by showing his lashing scars — because it's the decent thing to do. He reconciles with Beatrice's uncle — the man who tried to have him declared mad — because it's the right thing to do. And when Beatrice is caught by a real madman, and the only way to save her is to allow himself to be chained to a wall — well, you know what he does. To Desire a Devil is the concluding volume in Hoyt's Four Soldiers series, and it lives up to its predecessors in being a sexy, intelligent, dramatic story. The only place it goes wrong? With the title. Because Reynaud is no devil; he's a "Jack."
Perhaps the real test of a good guy is when he's torn between two choices, both of which are right — and wrong. Dev Santos, the hero of Nalini Singh's Blaze of Memory, faces the ultimate test of decency: he is duty-bound to eliminate a woman who poses an obvious threat to his people and himself. And yet…he can't. Katya Haas has been stripped of her memories and programmed to murder. What she needs, more than anything, is to find someone who believes her and will help her fight the damage done to her brain. Dev is that man. Even when he wakes up to find her standing over him with a knife, he still trusts her. This is a tear-jerker that moves relentlessly toward the moment when Katya's brain finally snaps. That's when you'll start praying that we live in a fair world, where decency and trust are not only true, but rewarded.
These are the sort of novels you should turn to after your boss does a Gordon Ramsey, your husband goes off with the boys to Las Vegas, and your teenage son airs the new tats you had forbidden. There are days when decency seems in scarce supply, and all the "Jacks" above will give you a heart-warming sense that the world still spins in a balanced, fair, and honorable fashion.
If you'd like to discuss romances featuring the almighty Jacks of literature (and reality), please stop in to chat with Eloisa James in the Romantic Reads Book Club, where she'll be joined by Nalini Singh (12/2-6), Terri Garey (11/9-13), and Elizabeth Hoyt (11/16-20). Please do check out Eloisa's past columns in the Archives and if you'd like to get her reaction to romances as she reads them, follow her on Facebook or Twitter. If you'd like a peek at Eloisa's own romances, please visit her web site at www.eloisajames.com.
And don't forget the Barnes & Noble daily romance blog, Heart to Heart, where the fabulous Michelle Buonfiglio chats about the hottest news in the world of romance, from favorite authors to scorching love scenes.