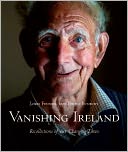 St. Patrick said that he returned as a missionary to Ireland because of a vision in which he heard the local peasants ask him "to come and walk among us." The advice contained in Turtle Bunbury's Vanishing Ireland is that those who wish to see the island's old folk and old ways better not wait for a visionary invitation. Bunbury and photographer James Fennell have published three volumes in their series of bio-portraits — farmers and shopkeepers, thatchers and seamstresses, gravediggers and ghillies (fish-and-game guides), all in their last years and following near-extinct ways of life. The portrait below is of George Thomas, an eighty-three-year-old bachelor farmer from Greenane Mor, County Wicklow:
George was, without doubt, one of the last of his kind. He lived without electricity or mechanization. He had no car and saw no need for an avenue. His one-story farmhouse was hidden in a field behind a hedge of cypress trees…. To access the property, you had to open a red gate from the road and walk across a grassy meadow — sheep on one side, heather on the other, with the glacial slopes of Glenmalure rising in the distance. Two strips of box hedge and a rickety gate pointed straight to his front door.… In George's paraffin-lit kitchen, the only sound was the turf burning on the vast open hearth, the fire gently fanned by a wheel-operated, under-floor pipe. Above the fire was the crane with a couple of hanging pots, used by George for both baking and cooking.
George liked a drink (Guinness, bottled, room temperature) and had he not died in 2008 he would no doubt have celebrated St. Patrick's Day at his local — MJ Byrne's, featured in one of Bunbury's other books on vanishing Ireland, The Irish Pub. You will find the décor at MJ Byrne's to be 1920s-shabby, says Bunbury, and you may even find the door locked — if so, one of the two brothers who run the pub will happily open to your knock.
---
Daybook is contributed by Steve King, who teaches in the English Department of Memorial University in St. John's, Newfoundland. His literary daybook began as a radio series syndicated nationally in Canada. He can be found online at todayinliterature.com.