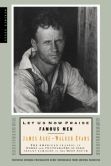 James Agee was born on this day in 1909. In an attempt to portray Agee's driven, sometimes desperate personality, the biographies cite two legendary snapshots of him during his employment at Fortune magazine. In the first, he is working through the night on the fifty-second floor of the Chrysler Building in Manhattan, fueled by cigarettes, whiskey, and Beethoven: "Something attracts me very much about playing Beethoven's Ninth Symphony there," he wrote to his friend and mentor, Father Flye, "with all New York about 600 feet below you, and with that swell ode, taking in the whole earth, and with everyone on earth supposedly singing it." The second snapshot has another Fortune employee entering Agee's office unannounced to find him dangling on his window ledge.

In his Introduction to Let Us Now Praise Famous Men, Agee sarcastically wonders if the book will make his publishers some money and please the tastes of liberals empathetic to the sharecroppers' poverty. He then asks his readers not to give Let Us Now Praise Famous Men the ultimate, middlebrow death kiss: "Above all else: in God's name, don't think of it as Art." To test whether a work has lost its "fury" and "soul" through cultural "castration," says Agee, proceed as follows:
Get a radio or phonograph capable of the most extreme loudness possible, and sit down to listen to a performance of Beethoven's Seventh Symphony or of Schubert's C-Major Symphony. But I don't mean just sit down and listen. I mean this: Turn it on as loud as you can get it. Then get down on the floor and jam your ear as close into the loudspeaker as you can get it and stay there, breathing as lightly as possible, and not moving….Is what you hear pretty? or beautiful? or legal? or acceptable in polite or any other society? It is beyond any calculation savage and dangerous and murderous to all equilibrium in human life as human life is; and nothing can equal the rape it does on all that death….
---
Daybook is contributed by Steve King, who teaches in the English Department of Memorial University in St. John's, Newfoundland. His literary daybook began as a radio series syndicated nationally in Canada. He can be found online at todayinliterature.com.