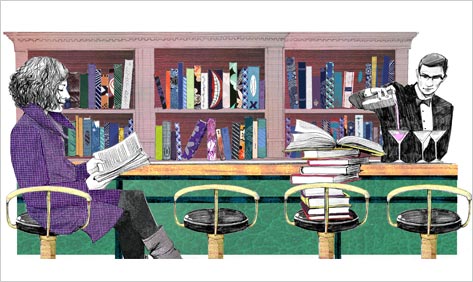 "A Federal District Court judge in Manhattan ruled … that Fox Searchlight Pictures had violated federal and New York minimum wage laws by not paying production interns…. The judge noted that these internships did not foster an educational environment and that the studio received the benefits of the work…. Like their counterparts in other industries, the interns took lunch orders, answered phones, arranged other employees' travel plans, tracked purchase orders, took out the trash and assembled office furniture." — The New York Times

Welcome back to your internship! In accordance with federal minimum wage laws, we have restructured our traditional Serf for a Year program to instead provide an appropriate court-mandated academic environment. Rather than merely doing administrative work for the department, you will now attend a strict schedule of daily classes, designed to teach you everything you might need to know, if you were to one day become a paid employee, working underneath a demanding, capricious, 42-year-old junior vice president who deserves more than just one lousy intern, even though his only work assignment in the last month has been this tedious memo.
Of course, you'll never become a paid employee, at least not here at Feebtronics, Inc., because you've threatened to sue us for non-compliance with federal labor law. Here is your daily schedule:

9:00 AM – 9:50 AM — Phones 101
In this class, which will be taught by Associate Professor Sally The Receptionist, you will learn proper telephone etiquette, including how to take messages, how to transfer calls, and, in an advanced graduate-level unit, how to order lunch for a lactose-intolerant junior vice president who enjoys some variety in his meals, and please get extra napkins. While the class will be 50 minutes long, daily homework will require that you practice your telephone skills for the remainder of the day, especially when annoying customers call and want us to do things for them. You will need to pay an equipment fee of $30 for your phone. Because this is school, and in school you have to pay for your supplies.

10:00 AM – 10:50 AM — Home Economics and Furniture Repair 102
Remember that IKEA desk we made you put together last week, back when this was still a silly unpaid internship, without any educational value at all? Well, we kicked it, and now it's broken, so we need you to fix it. Eddie from a van outside the hardware store will be your instructor for this class. (He will also teach you how to fix the toilet in the employees-only bathroom, which you obviously can't use, because you're not an employee. You can use the educational Port-A-Potty in the parking lot.) Fixing the desk will be 20% of your final grade.
11:00 AM – 11:50 AM — Independent Study: World Cultures
Someone's taking a vacation. Don't worry, it's not you — students don't get vacation time, of course. Please write a paper – spelling and grammar count! — designing an ideal two-week travel itinerary for a hypothetical 42-year-old junior vice president, with a wife and two children, ages 7 and 9. The children enjoy museums and the beach. Please build two days into the schedule for the junior vice president to sneak off with his mistress. His hypothetical mistress.
12:00 PM – 12:50 PM — Physical Education
Eating your own lunch isn't very educational. Instead, we're excited to provide a physical education program, in the form of stair exercises and small free weights. Our expertly-trained "exercise delivery men" are waiting in the lobby with the weights, which are in plastic bags and smell like food. You will bring these weights up eighteen flights of stairs to your "personal trainers," who will then take the weights into their offices and eat them. For extra credit, you can carry out the trash.

1:00 PM – 1:50 PM — Financial Literacy 301
Alas, the threat of a lawsuit made us realize we weren't exposing you to enough of the critical parts of our business. Our mistake. We are happy to share all of our most important documents with you by allowing you to shred them face-down in our trash disposal room. $50 equipment fee for use of the shredder. This unit will be supervised by a 42-year-old junior vice president to make sure that none of his emails to a hypothetical mistress get held onto by litigious, sticky-fingered ingrates.

2:00 PM – 2:50 PM — Advanced Topics in Veterinary Medicine
Yes, you're walking our dog.

3:00 PM – 3:50 PM — Seminar in Food Safety
Please clean out the fridge.

4:00 PM – 4:50 PM — Personal Tutorial in Thai Foot Massage
We'll be in our office.

We hope that you're as excited about this new direction for the internship program as we are, and now realize how good you had it before. Look forward to your final exam, which will involve synthesizing all of your knowledge to train our next class of interns, and to the diploma we're definitely going to send you, assuming you don't have any outstanding telephone or trash-disposal debt.

P.S. Those IKEA furniture instructions were from our "library," so we hope you didn't throw them out, or you owe us $20. We're so pleased to have you here!
Jeremy Blachman is "hiring" unpaid interns to read humor pieces. Application instructions at http://jeremyblachman.com.