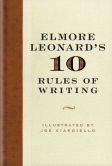 My most important rule is one that sums up the other ten: If it sounds like writing, I rewrite it.
Elmore Leonard was born on this day in 1925. His "10 Rules of Writing" offer advice to anyone who aspires to his goal of being "invisible" (as opposed to the kind who fancies the "hooptedoodle" of "language and imagery and the sound of your own voice"). Leonard's rules helped him become "the greatest American novelist never to be mentioned in the same breath as 'Nobel Prize' " (John Sutherland, Lives of the Novelists).
---
Daybook is contributed by Steve King, who teaches in the English Department of Memorial University in St. John's, Newfoundland. His literary daybook began as a radio series syndicated nationally in Canada. He can be found online at todayinliterature.com.