How an island's people made a new nation their own.
---
By James R. Barrett
By 1900, there were more people of Irish descent in the U.S. than in Ireland. Barrett documents the important roles Irish-Americans played in shaping the urban centers of their adopted homeland — whether in church, on the police force, or behind the bar — and how, as the sources of immigration shifted to southern and eastern Europe, successive waves of Italians and Poles adopted the Irish model of assimilation. When the melting pot threatened to overflow, some Irish Americans sought to drive out these new arrivals. But Catholicism's message of inclusion, memories of hostility upon their own landing, and the need for votes led to a wave of progressive political activism that embraced immigrants and ultimately fashioned modern America.
---
By Charley Rosen
Baseball may be America's national pastime, but Rosen recounts the pervasive influence of Irish players, managers and fans on the game. An Irish pitcher tossed the first curveball. Irish players, taking cues from their forebearers' successes in organizing labor, were vital in the formation of the first players' union. Equipment such as batting helmets, catcher's shin guards, and even the little broom used by umpires to clean home plate, as well as early stars like home run king Dan Brouthers and a slew of successful managers, testify to a Hibernian impact on baseball that cannot be overemphasized. A fun, fact-filled case that the outfield is really Kelly green.
---
By James T. Farrell
Farrell's trilogy is a classic of the American coming-of-age genre, a precursor to Bellow's The Adventures of Augie March and Pileggi's Wise Guy. Collecting the novels Young Lonigan, The Young Manhood of Studs Lonigan, and Judgment Day, his magnum opus opens a window onto the world of the Irish-America diaspora in Chicago's South Side during the early 1900s. Following the protagonist through his childhood days of promise to his early death as he falls prey to the desire to be seen as a tough guy in the Windy City's cesspool of organized crime, this is a cautionary tale about the just rewards of ruthless ambition and squandered opportunity.
---
By Frank McCourt
The follow-up to McCourt's powerful memoir, Angela's Ashes, picks up when he arrives in the States at the age of 19 and follows him as he works the docks of New York, gets drafted to serve his new country in Germany, and deals with being poor in the land of plenty. A story of redemption, the memoir follows a young man's decision to become a teacher and how the special relationship he cultivated with his students eventually inspired him to begin putting the story of his own journey down on paper.
---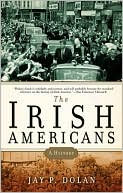 The Irish Americans: A History
By Jay P. Dolan
Dolan, professor emeritus of history at the University of Notre Dame, presents a panoramic account of the Irish experience in America, comprehensively covering four main subjects: politics, religion, labor, and nationalism. He begins in 1729, when a decline in the linen trade and a poor harvest led to a mass exodus from Ireland — a phenomenon massively compounded by the following "potato famine" of the 1840s. Dolan follows these immigrants as they endure extreme poverty through the late nineteeth and early twentieth centuries, only recently arriving in a secure position at the heart of American economic and cultural life. Resplendent with detail, this is history as epic.