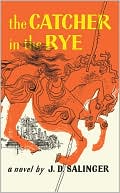 Though he long kept resolutely out of the public eye, J.D. Salinger has not been long out of the mind of many readers. His death at 91 has lit up the online world of literary blogs and Twitter feeds with quotations, tributes, and a collective attempt to mark what felt like the epochal passing of the author of The Catcher in the Rye and Franny and Zooey. We asked some Barnes & Noble Review contributors to share their thoughts about Salinger, and their recollections of reading the works that were at one point a crucial moment in any young book-lover's life. We're posting them as they roll in.
As with so many of the books I encountered as a teenager, it was my mother who suggested I read The Catcher on the Rye. In retrospect, I'm not completely sure what she was thinking, but to my 14-year-old self, Holden Caulfield was a sage, the patron saint of phony-outers, and hilarious to boot. (Who knew literature could be funny?) I came back to the book in my 30s, wondering what had drawn killers like Mark Chapman and Robert Bardo to it, and then, of course, I saw how disturbed, how damaged Holden really was, and that I was wrong in my earlier assessments – he was the patron saint of misfits and outcasts. I have no idea which Holden I will encounter when I next return to him, but I suspect he will continue to surprise me.
–Mark Sarvas


I first read Salinger as an American teenager growing up in London, where Nine Stories was published with the title For Esmé With Love and Squalor, which, after "Bananafish," was my favorite story in the collection. Of course I identified with his characters' alienation, but what I really responded to—and still do—were the ah-ha moments when I realized how much a skilled writer could say obliquely—about phonies, about the toll of military service, about love and squalor.
In an era where authorial relevance is increasingly measured by Facebook friends and Twitter followers, Salinger's willful, willed withdrawal reminds us of the reasons we were drawn to him in the first place.

Adolescent angst has never had a voice so clean, so desperately welcome, so surprising to be lofted from the adult side of the hostile border. Salinger has become fashionable to mock — a fate that inevitably comes to strong voices that are convenient targets of easy parody. But I don't think we'd have the contemporary hipster confidence of people like Wes Anderson, Dave Eggers and Benjamin Kunkel without the creation of the post-war adolescence that Salinger almost singlehandedly bodied forth. And that he lived; his reclusivity was the ultimate adolescent statement (and fantasy) of going to your room, shutting the door, and never coming out.
Yes, The Catcher in the Rye and Franny and Zooey had a seismic effect on what I might now laughingly call my adolescent sensibility. An oxymoron, if ever there was one. But my son and his friends, in their adolescence, in the nineties, were entirely unaffected by Catcher. Maybe because it had become required reading. Nothing more toxic to Rebellious Youth than required reading. Now, de morituri nil nisi bonum and all, but what interests me to this day is the possible datedness of all coming-of-age-angst-ridden "classics." Maybe each generation has to have its own. Maybe the canonization of a book automatically reduces its outsider status.

In any case, what didn't differ, literarily–in the same kind of category, perhaps–between me and young Will Menaker is our response to Catch-22. We both love it to this day and quote from it from time to time. In fact, when he read it, he said he put it down often–"because I never wanted it to end." Now that's the highest praise of all.
Someone tell me why that might be–the difference between Holden and Yossarian.
Like numerous skeptics stumbling up the steps of high school, I was initially distrustful of the adolescent novel that purported to understand me. But The Catcher in the Rye won me over in a way unlike most prescriptive fiction assigned by the teachers — a strange irony, considering this book's commitment to the virtues and the follies of being anti-establishment. Holden Caulfield may have been an inveterate whiner, but he fought the good fight, daring to take on pimps, staring hard at the hypocrisies of the zoos and the carousels that existed to amuse us. But by the time Holden attends the play, claiming to see more phonies around him than one could see in a lifetime, my fifteen-year-old self began to realize that here was the rare book that warned against the very cynical virtues it purported to endorse.

The misfit's role was less about where one stood in society, or even how one perceived society. If you could get through the difficult task of accepting your inner flaws and hypocrisies, you might stand a chance at surviving without drowning in the crazy damn world's noise. If you could live in the present, you might avoid being the fifty-year-old man searching for his initials in a bathroom stall, whom Holden encounters late in the book. On the other hand, if you resisted all phonies and remained committed to the Donnean maxim, there was Salinger's warning in the last line of not telling "anybody anything" and "missing everybody." All these were vital literary lessons, and it led me quite naturally to Dostoevsky, Henry Miller, and James Baldwin, who fleshed out these difficult questions further with their brave and honest writing.

But it was Salinger who grabbed me first and pointed me in the right direction. His smooth sentences, his gift for finding the right breaks in dialogue, and his exploration of the tough cracks within hard dichotomies would extend into his excellent Glass family stories. Whether his work will stand the test of time is a question I will leave to others. But his great ability to straddle the popular and the literary fences certainly made him memorable to me.