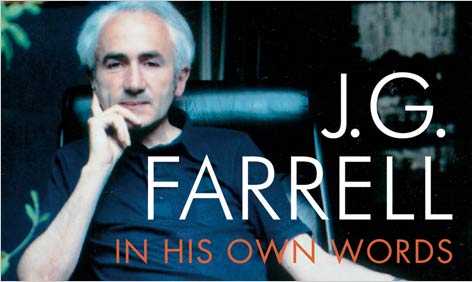 "I may start out with the most serious and measured intentions," J. G. Farrell wrote to a friend in August, 1969 as he was finishing Troubles, his first great novel, but "everything I touch has a habit of turning to the absurd." Bleakly and tragically absurd, as it transpired. Ten years later to the month of that letter, Farrell — rejoicing in his own little house on the Irish coast, the reward of years of material and emotional sacrifice in the interests of art — was drowned, swept from his favorite rock while fishing. Indeed, it is impossible to read this fine, revelatory collection of letters and diary entries (J. G. Farrell in His Own Words: Selected Letters and Diaries) and not quail as its denouement approaches with steps of invincible irony. "My book is at last making a little progress," he wrote earlier in that fatal summer, "though it has a rival now — viz. fishing off the rocks." He boasted of his catch and wrote fondly of his fishing companion, "an old grandpa seal who looks as if he's wearing a Twenties bathing cap" who "watches me with the air of someone who thinks he knows a better way of doing it." And finally, working hard the day before he died, he declared, in his last extant letter: "I'm running a bit behind schedule — but I'm still confident that barring some unforeseen disaster, I'll provide you with a novel …before the end of the year."
Oh, dear.
These letters and diary entries show the determination and loneliness of a man who, though well-supplied with girlfriends, gave up marriage, family, and material ease to write novels, three of which are brilliantly idiosyncratic, moving, and very funny depictions of the crumbling British Empire. The selections display Farrell's whimsical melancholy, his sense of the fragility of civilization, and his feeling for the poignancy of little people clutching onto social certainty. They also reveal any number of curious facts, among them that the Majestic Hotel of Troubles was inspired by the burnt-out shell of a hotel on Block Island, RI and that he had thought of writing a novel about "doomed and fantasy-prone" Emperor Maximilian. They are shot through, too, with wonderful self-deprecatory descriptions of his own doings and person. Writing from India, where he was gathering impressions for what became the Booker Prize-winning Siege of Krishnapur, he wrote: "I think I hear whispers in the bazaar that fat Smoothy Sahib will soon be having to purchase new churidars (trousers to you) to enclose his ample proportions."
In his foreword to the book, John Banville writes that Farrell's death "was little short of a disaster for English fiction": these pages, filled with personal reflection, acerbic observation, and comic dash, sadly confirm it.