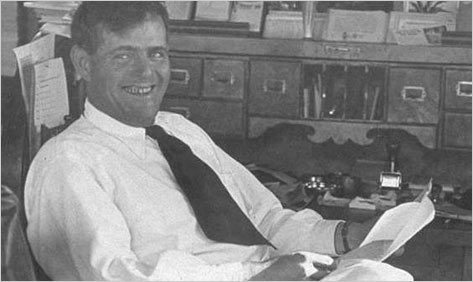 The following excerpt from A Skeptic'sGuide to Writer's Houses is reprinted by kind permission of Anne Trubek and the University of Pennsylvania Press.
Your small house, too, in ruin!
Its feeble walls the winds are scattering!
And nothing now, to build a new one,
Of coarse grass green!
—Robert Burns, "To a Mouse"
That reading is a form of escape is a truism. We escape, retreat, surrender into books. They offer us a home away from home (especially when home is unwanted); they grant us immersion. The Oxford Dictionary 104 Chapter 7 defines this absorption through the act of reading: "she was totally absorbed in her book. engross in, captivate by, occupy with, preoccupy with, engage in, rivet by, grip by, hold by, interest in, immerse in, involve in, enthrall by, spellbound by, fascinate by/with."

Writing is a form of escape, too. The quest for absorption is also what moves many to write. In his essay "Why Write?" Alan Shapiro describes the pleasure that writing provides as "perfectly useless concentration." We write, Shapiro tells us, "for the total immersion of the experience, the narrowing and intensification of focus to the right here, right now, the deep joy of bringing the entire soul to bear upon a single act of concentration." Saul Bellow says something similar: "I think that art has something to do with an arrest of attention in the midst of distraction."

In fact, when we write, we are not even ourselves: "It is self-forgetful even if you are writing about the self, because you yourself have disappeared into the pleasure of making: your identity—the incessant, transient, noisy New York Stock Exchange of desires and commitments, ambitions, hopes, hates, appetites, and interests—has been obliterated by the rapture of complete attentiveness. In that extended moment, opposites cohere: the mind feels and the heart thinks, and receptivity's a form of fierce activity. Quotidian distinctions between mind and body, self and other, space and time, dissolve."

In other words, writing provides the same pleasure of forgetfulness one experiences one-third of the way through a great novel. A visit to a writer's house can be a way to get out of yourself, too. But the action that leads a house to be preserved—the production of words by the writer who lived there—is an act of absorption itself—an escape from, say, household worries. This paradox—by escaping the mundane somebody did something so profound that the mundane is what we now revere—is central to my skepticism about writers' houses.

At the same time, a trip to a writer's house—and the act of writing—can be as much an act of narcissism as it is an escape from self. How might I become like this great writer? Can I pick up any hints? Does my house look as good as this one? And of course, the one that lurks behind all other questions—maybe even my own interest in these houses—what will happen to me after I am gone? For what will I be remembered? Who will do the remembering? Will anyone want to preserve my house?

Similarly, the theory of writing as euphoria—a selfless ecstasy—only gets at part of why writers write. Another part is seemingly opposite and embarrassingly crass: a desire for immortality. As a writer myself, I must admit to being somewhat confused by dancers and stage actors and chefs. All that work, I think, all that practice and preparation and effort, for what? An ephemeral product, an hour or two on stage, a meal to be eaten? How does one put so much into something that will only dissipate and dissolve into the slipstream of unreliable memory? Writers choose words as their me´tier partially out of a desire for the solid permanence that publication, reading, and rereading provide.

A hope for immortality is at stake when we lose ourselves in art. But tragically we are unable to arrest the future, to ensure permanence. Whitman could not control the posthumous objects he hoped would preserve his legacy—the tombstone with the wrong date, the brain that splattered on the floor. "The thought of death" was not "merged in the thought of materials" quite as he wanted them to. Nor were they for Hemingway or Wolfe, who also tried but failed to have us heed their directions. Writers—devoted to a craft based in absorption—also have a strong link to depression. It may be that depression, a state of constant distraction, is a precondition for the "arrest of attention" that absorption, and art, provide. I have visited many authors' museums that housed intense sadness. Sometimes writers' houses offer us a space to contemplate an author's attempt to secure his own immortality, the ego driving, the future vainly predicted. No house better exemplifies this too human vanity than Jack London State Historic Park in California.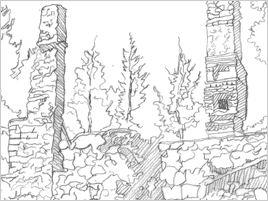 Jack London was a restless, depressive self-made man, and he devoted most of his final years to building a ranch. In 1913, he wrote to a friend about his place in Sonoma Valley, California: "Come to see what I am trying to do with the soil, and with hogs, and with beef-cattle, and dairycows, and draft-horses." Who knew? Jack London, the macho, womanizing, alcoholic, adventure-traveler public celebrity spent the last years of his short life building a humane "Pig Palace" for his livestock and pouring manure down a slope so as to avoid using chemicals. London was best known then, as he is now, as a writer. But he was obsessed by the question of his legacy and his posthumous future. He wanted to be known after his death, and he did not want to be known for his writing. He wanted it to be for his ranch and to improve the soil on the land. He pioneered what we would call today sustainable agriculture on his Beauty Ranch, a 1,400-acre farm in Glen Ellen, California.

Today, the ranch, which comprises the Jack London State Historic Park, wreaks havoc with stereotypes. By the time he settled at Glen Ellen in 1905, London was sick of writing, tired of the demands that editors made of him to churn out the types of adventure stories that made him famous. But writing was his meal ticket and the only means he had to earn money for his ranch. So he pushed himself to write a thousand words a day, every day, to raise money for soil and stone. "Do you realize that I devote two hours a day to writing and ten to farming?" he wrote in his journal. "My work on this land, and my message to America, go hand in hand."

…

After his death his wife Charmian wrote a plea to posterity, asking his fans to remember "Beauty Ranch" or, as Jack once called it, "The Ranch of Good Intentions." "Have any of you thought what is to become of the great thing he has started up here . . . I am begging you now, with all my heart, not to forget that he laid his hand upon the hills of California." But we have.