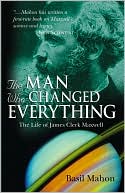 The Scottish physicist and mathematician James Clerk Maxwell died on this day in 1879. Einstein described Maxwell's experimental work as "the most profound and most fruitful that physics has experienced since the time of Newton," and the most recent biography is titled The Man Who Changed Everything (Basil Mahon, 2003). Maxwell was also an avid reader of poetry, and a sometime poet in a demanding, crossover genre. His "A Problem in Dynamics" begins, "An inextensible heavy chain / Lies on a smooth horizontal plane, / An impulsive force is applied at A, / Required the initial motion of K…," and goes on for another sixty, problematical lines. His physicist's version of "Comin' Through the Rye," by countryman Robert Burns, begins, "Gin a body meet a body / Flyin' through the air. / Gin a body hit a body, / Will it fly? And where?…" But Maxwell was a devout Christina as well as a devoted scientist, and some of his poems have a larger range. In "Lines written under the conviction that it is not wise to read Mathematics in November after one's fire is out," he debates the limitations of science and the value of scholarly toil; below, the wishful closing stanza:
Oh! that men indeed were wise,
And would raise their purblind eyes
To the opening mysteries
Scattered around them ever.
Truth should spring from sterile ground,
Beauty beam from all around,
Right should then at last be found
Joining what none may sever.
Another "comin' through the rye" poem is tied to this day — William Wordsworth's "The Solitary Reaper," composed on November 5, 1805. The poem was partly inspired by Wordsworth's 1803 walking tour of the Scottish Highlands in harvest time. The second inspiration was a sentence in a book by his friend Thomas Wilkinson, describing a moment during his own harvest walk: "Passed a Female who was reaping alone: she sung in Erse as she bended over her sickle; the sweetest human voice I ever heard: her strains were tenderly melancholy, and felt delicious, long after they were heard no more." In his poem, Wordsworth combines these specific images with his belief that in such moments of "low and rustic life the essential passions of the heart find a better soil" (Preface to Lyrical Ballads). Below, his final stanza, which seems to concur with Maxwell's:
Whate'er the theme, the maiden sang
As if her song could have no ending;
I saw her singing at her work,
And o'er the sickle bending;
I listen'd, till I had my fill;
And, as I mounted up the hill,
The music in my heart I bore
Long after it was heard no more.
---
Daybook is contributed by Steve King, who teaches in the English Department of Memorial University in St. John's, Newfoundland. His literary daybook began as a radio series syndicated nationally in Canada. He can be found online at todayinliterature.com.