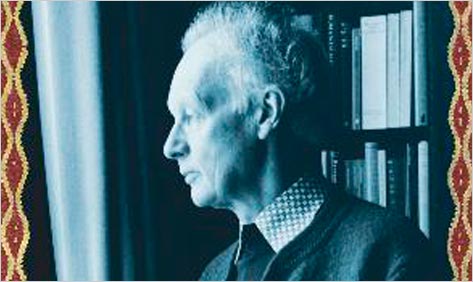 First a confession: the works to which I lose my heart tend to be . . . confessional. Intimate. Set down in the first person singular. Oh, I revere Dante, Dostoevsky, and Dickens, and would probably pick either Jane Austen, P. G. Wodehouse, or Evelyn Waugh as the most perfect writer of English prose, and I regard Murasaki Shikibu's Tale of Genji, Cervantes's Don Quixote, Tolstoy's War and Peace, and Melville's Moby-Dick as the greatest novels in the world. Nothing surprising there. But if first given the Bible, Shakespeare, and a fat anthology of lyric poetry (Sappho to Larkin), and then asked to name my 10 favorite books, I would probably choose the following:
Montaigne's Essays

Boswell's Life of Johnson

Rousseau's Confessions

Stendhal's nonfiction (especially his travel books and The Life of Henry Brulard)

Thoreau's Walden and journals

Flaubert's correspondence and travel writings

Proust's autobiographical In Search of Lost Time


Cyril Connolly's elegiac commonplace book, The Unquiet Grave

The letters of George Lyttelton and Rupert Hart-Davis


Joseph Mitchell's collected journalism, Up in the Old Hotel

If literature is news that stays news, as Ezra Pound famously said, then such books as those on my list represent what one might call the higher gossip. Their pages are packed with amusing anecdotes, erotic adventures, moral observations, lyrical evocations of the past, bits of biography, encounters with unusual people, and glorious descriptions of nature, art, places, and society. These are, in short, works that recreate a time and a place, while also plunging us deep into a tattered human heart. What better reason to read?
If you share this taste for the highly personal, then you really should try James Lees-Milne, widely regarded as the most entertaining English diarist of the past century.
Lees-Milne (1908-1997) began to keep a diary during the middle years of World War II. The first four volumes cover the 1940s in considerable detail, and all take their titles from Coleridge: Ancestral Voices (published in 1975), Prophesying Peace (1977), Caves of Ice (1983), and Midway on the Waves (1985). A Mingled Measure (1994) quickly skims through the 1950s and '60s, and a half-dozen subsequent installments, several posthumous, take the observations into the 1980s. In England the reception of all these volumes was nothing less than rapturous. Even the pianist Arthur Rubinstein and the Queen Mother were fans.
Of course, virtually all the reviewers seem to have been Lees-Milne's friends, ranging from poet John Betjeman and Elizabethan scholar A. L. Rowse to man of letters Peter Quennell and the Duchess of Devonshire (Deborah Mitford). But then "Jim" seemed to know everyone. His circle of brilliant friends included the prominent hostesses Emerald Cunard and Sybil Colefax, most of the Brideshead Generation, several Mitford sisters, and such unique characters as the novelist Ivy Compton-Burnett and the flamboyant biographer James Pope-Hennessy.
Like the letters of Lees-Milne's oldest friend Rupert Hart-Davis, or the essays and personal writings of Evelyn Waugh, these diaries are very English, and very upper-class English at that. In fact, the early volumes largely focus on visits to stately, if usually dilapidated, English homes and country estates. For during much of his life, James Lees-Milne worked for the National Trust, helping to preserve Britain's architectural heritage. This job insured that he would encounter an almost endless series of dotty and sometimes admirable eccentrics, all of whom provide good copy:
Arlington Court is plain to ugliness. Of a dark hard ironstone, the old part is severe Greek Regency, featureless. Unappetising annexe built on c. 1875 by Miss Chichester's father. The park untidy and overrun with rabbits . . . Miss Chichester very old, white haired and dropsical, the last of her line. Looked after by a gentle, fawn-like young man from Shaftesbury Avenue. Her museum, made by herself, is a nightmare of model ships, shells and New Zealand Maori headdresses. She lives and sleeps in her drawing-room which is made into an aviary. Birds fly over her bed and perch on a clutter of bric a brac and masses of flowers.
Then there's William Esdaile, who inherited some notebooks containing unpublished poems by Shelley:
Mr. Esdaile said to me: 'You must understand that until the last few years Shelley's name has never been mentioned in my family. He treated my great-grandmother [the poet's first wife, Harriet Westbrook] abominably. He even had the effrontery, while living with another woman, to ask my great-grandmother to come and join them in their adultery.'
If James Lees-Milne is a name that means little or nothing to you, then you should first pick up Michael Bloch's recent biography, James Lees-Milne: The Life, for a lively introduction to his world: a privileged, upper-middle-class family, Eton and Oxford during the 1920s (where Lees-Milne was academically undistinguished), myriad love affairs with both men and women, work for the National Trust, eventual marriage to the wealthy and rather steely Alvilde (also bisexual: she entered into liaisons with the elderly Princess de Polignac and Vita Sackville-West), much travel in France and Italy, and acquaintances that reached back to the elderly American aesthetes Logan Pearsall Smith and Bernard Berenson and up to the heart-throb travel writer Bruce Chatwin and rock star Mick Jagger (who commissioned Alvilde to design a garden for his house in France). At the end of Lees-Milne's life, even the Prince of Wales—an admirer of his preservation work—came to visit him several times at the hospital.
To explain his diary keeping, Lees-Milne once wrote: "If a man has no constant lover who shares his soul as well as his body, he must have a diary—a poor substitute, but better than nothing. That is all there is to it in my case." Certainly, Lees-Milne—a good-looking, highly-sexed man, as Bloch's biography makes abundantly clear—looks at the world with an almost erotic intensity. Nothing escapes him during the many dinners and lunches he attends:
Violet Trefusis [one-time lover of Vita Sackville-West and Virginia Woolf] looks like a basilisk, upright in carriage, and very ugly. When we rose after luncheon I noticed a circle of toast round her chair on the carpet, large pieces crescent-shaped where her teeth had bitten them.

Dined with Charles Fry [a director of the publishing house Batsford's] back from the States. He drank seven whiskies and soda while I was with him between 7:30 and 10:30. He is violently pro-American and anti-English. He said he had been away eleven and a half weeks and slept with forty people during that time.

Lunched alone with M.J. [furniture expert Margaret Jourdain] and Ivy C-B [novelist Ivy Compton-Burnett]. How they can eat! Ivy has a curious habit, when sitting down to a meal, of splaying her legs apart and lifting her skirt above the knees. For an Edwardian spinster it is most indelicate. She attacks the food, literally with venom. They showed me how they were obliged to sprinkle broken glass all over their flower box to prevent a neighbour's cat from squatting on it and 'using the earth for its own purposes.' They pick up the glass from the curbs in the square, as though it were cigarette ends, and scoop it into newspapers to the surprise of passers-by.

[Poet] Henry Reed dined with me at Brooks's. His too fulsome praise of my book of which he has read the proofs, makes me question his intelligence.

Lunched at the Dorchester with Sibyl Colefax in a very overheated little room on the top floor overlooking the park, the sun shining directly upon us. A curious party . . . T.S. Eliot dark, swarthy, professorial, retiring, quizzical, diffident—a medical practitioner or undertaker's clerk. Alas, I had no chance of talking with him.

Bruce Chatwin . . . lunched with us yesterday. Bruce came in like a whirlwind, talking affectedly about himself. He has no modesty; he shows off. . . . I like him. It is a pity he is already losing his looks. [Later, Lees-Milne was to add: "I have seldom met a human being who exudes so much sex appeal with so comparatively little niceness. What does this boy want?"]
While architecture is Lees-Milne's most obvious professional expertise, his pastimes include frequent evenings at the opera and concert hall, visits to museums, art galleries, and churches (for many years he was a desultory Catholic), and constant reading. Politically, he is conservative, even reactionary, disliking most modern developments in the world and judging them as vacuous and meretricious. He is always modest and gentlemanly, but also sharp, fastidious, and shrewd:
Saw the Dulwich Gallery pictures at the National Gallery. How lovely are the Nicolas Poussins, those idyllic yet passionless blues and greens. What a world one enters of piping and bleating.

Reading in bed last night Gerin's life of Emily Bronte, I was struck by Emily's knowledge of passion without apparently having experienced it. I think after all that those who have never experienced passionate love can easily imagine it, and having read deeply can know it even better than from the actual experience. After all the desires are there, and because not realized become no less poignant, rather more so. It is unfulfilled love which intensifies passion. The terrible storms of emotion which passed through that remote Yorkshire parsonage must have left an indelible impression on the house. I wish I could visit out of the tourist season, alone . . .

I counted the list of books read during 1971. They amount to 142, not of course including articles, or parts of books, but whole books. No wonder Agatha Christie dissented when I said few people read as many as 100 books in one year. 'I always do,' she protested. 'I read over 200.' I wish I could remember half of my total.
Anyone who reads extensively about English literary and artistic society during the 20th century is apt to be shocked by, or envious of, the astonishingly rich sex lives many of these people enjoyed. Lees-Milne's promiscuous, but otherwise conventional parents conducted multiple affairs; he himself slept with handsome Tom Mitford when at school and, a few years later, aspired to the favors of Tom's beautiful sister Diana (who later married the English fascist Oswald Mosley); his close friend the irrepressible James Pope-Hennessy was eventually murdered by "rough trade."
It was "Jamesy," for instance, who inquired about the erotic tastes of Edward Marsh, a prominent man of letters and the literary executor of poet Rupert Brooke. Had "Eddie" ever loved anyone physically? Lees-Milne records that, according to his heir Christopher Hassall, "the furthest he ever went . . . was to take his, H.'s foot, and polish it with his handkerchief while holding it against his bosom. Oddly enough Harold Nicolson told me only last week that before the first war Eddie was said to delight in taking off the hunting boots of his young men friends."
Apart from Bloch's biography, any admirer of the diaries should also seek out Another Self (1970) Lees-Milne's hilarious, half-truthful, half-fantastic memoir of his childhood and youth. It ends conveniently just when Ancestral Voices begins. In the view of Jeremy Lewis—himself the author of an extremely amusing series of memoirs—it is "almost certainly the funniest autobiography ever written." At one point, Lees-Milne's promiscuous mother is seeing the unhappy lad off to boarding school and suddenly realizes that he should be told something about sex:
'Which reminds me,' she added, in a rather portentous and uncharacteristic tone, 'your father would wish me to give you a little, just a little piece of advice. About life generally.' She paused, and then suddenly corrected herself. 'On the whole, it might be better if you asked the headmaster to explain all about the disgusting side of it.' And then to herself and half aloud, she added 'Not that I myself have ever found it exactly that.'
A bit later on, Lees-Milne relates how one day his mother literally takes flight with her current lover—in a hot-air balloon. While ascending, she blows kisses and showers her abandoned son with pound notes. "I was not to see her again until Christmas." According to Michael Bloch, this didn't happen in quite this way: she actually flew off in a small plane with an aviator.
Jim's crowd at Oxford was chiefly composed of the homosexual aesthetes, including Harold Acton (partial model for lisping Anthony Blanche in Brideshead Revisited) and Robert Byron, later the author of The Road to Oxiana (famously described by critic Paul Fussell as the travel book equivalent to Joyce's Ulysses and Eliot's Waste Land). As a young man, though, Lees-Milne became temporarily engaged to a young woman who went on to marry Heywood Hill, founder of the famous London bookshop of that name. At around the same time, he met his great mentor Harold Nicolson, diplomat, man of letters, husband to Vita Sackville-West, lover and advisor to a series of young men and, through the example of his diaries, the inspirer of Lees-Milne's own. (Nicolson's best-known book is the cult classic Some People (1926), notable for its slightly fictionalized profile of camp novelist Ronald Firbank. Nabokov once said that he had been fighting against the influence of Some People all his life, "like a drug.")
For most of his life then, as Bloch notes, "Jim" inhabited a world "of industrious aesthetes struggling both to maintain the cultural heritage and to lead a civilized existence in a society which increasingly favoured the values of the masses over the elites." As Lees-Milne lamented in an article called "Who Cares for England?", "Soon every town in Great Britain will lose its particular identity and look cheap, vulgar and commonplace." By the end of his life, he grew convinced that the cause of keeping alive the country's traditions and ancient heritage had been lost.
While a fine journalist (in both senses of the word), Lees-Milne himself dreamed of being recognized as a serious writer, especially as a poet. But Vita Sackville-West told him that his verses reminded her of "Tennyson's brother" and that they were—unkindest cut of all—"jolly good and full of feeling." On the other hand, his novel Heretics in Love (1973) was successfully marketed as pornography in the United States: as Lees-Milne once confessed, he did feel some anxiety in writing about "incest, homosexuality, bestiality, necrophilia, coprophilia and the divers nasty little habits that flesh is heir to."
Over the course of his writing life, Lees-Milne produced many architectural guidebooks, works of popular history (an entire book about St. Peter's in Rome, much admired by Pope John XXIII), and several biographies. Of these last my favorites are his short life of William Beckford, the wealthy dilettante who wrote the extravagant Gothic fantasy Vathek and created the equally extravagant and Gothic Fonthill Abbey, and a superb two-volume biography of Harold Nicolson. In a review I wrote many years ago for The Washington Post, I called it an exception to the general rule that a great biography can only be written about a great person. It is, in fact, a deliciously anecdotal, if slightly overlong, masterpiece.
Still, of all James Lees-Milne's books, the diaries (and Another Self) are the ones likely to be read in years to come, if only for their pen portraits of writers and eccentric landowners. Michael Bloch conveniently summarizes yet a few more of Lees-Milne's most amusing and touching interviews while on assignment from the National Trust:
Lord Berwick of Attingham is a spiritualist who thinks that ghosts have invaded the vacuum cleaner, while his neighbour, the orange-haired Lady Sibyl Grant, has moved out of Pitchford Hall, which she believes to be haunted, to live in a tree house. Lord Brocket takes Jim 'after hours' to the pub of the village he owns, where he 'beams, bows, and receives the homage of a dozen demi-mondaines and flash alfs.' Mr. Frank Green, a 'wicked old tyrant' who received Jim in bed wearing a nightcap with a bobble at the end of a string which flies around as he speaks, threatens to 'haunt him until his dying day' unless he restores the furniture to the Treasurer's House, York to its precise arrangement when Green donated the property to the National Trust. Over dinner at Stourhead, Lady Hoare remarks that in 1918 they were 'reduced to eating rats,' prompting her husband to correct her: 'No, no, Alda, you get your wars wrong, that was when you were in Paris during the Commune.'
Priceless, just priceless.