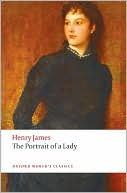 November 4: HenryJames's The Portrait of a Lady waspublished on this day in 1881. Many commentators regard the novel as the bestof his early works, Isabel Archer one of his most engaging heroines. In his prefaceto the 1908 New York edition, James discusses one passage from the novel atlength, because it is "obviously the best thing in the book" and"a supreme illustration of the general plan" by which he hoped toachieve his distinctive style of "psychological realism." The passagein question is Chapter 42, in which Isabel stays up long after her husband, nowrevealed to her as unsuitable and reprehensible, has gone to bed. In meditativefree-fall, she scans the events and emotions of recent months and years, hopingto understand how she could have arrived at such a bad match:
It was as if he had had the evil eye; as if his presencewere a blight and his favour a misfortune. Was the fault in himself, or only inthe deep mistrust she had conceived for him? This mistrust was the clearestresult of their short married life; a gulf had opened between them over whichthey looked at each other with eyes that were on either side a declaration of the deception suffered. It was a strangeopposition, of the like of which she had never dreamed—an opposition in whichthe vital principle of the one was a thing of contempt to the other. It was nother fault—she had practised no deception; she had only admired and believed.She had taken all the first steps in the purest confidence, and then she hadsuddenly found the infinite vista of a multiplied life to be a dark, narrowalley, with a dead wall at the end. Instead of leading to the high places ofhappiness, from which the world would seem to lie below one, so that one couldlook down with a sense of exaltation and advantage, and judge and choose and pity,it led rather downward and earthward, into realms of restriction anddepression, where the sound of other lives, easier and freer, was heard as fromabove, and served to deepen the feeling of failure.
Sensitive to those critics who complained that there was notenough "story" in his novels, James defends his attempt to "showwhat an 'exciting' inward life may do for the person leading it even while itremains perfectly normal. …[The passage] is a representation simply of hermotionlessly SEEING, and an attempt withal to make the mere still lucidity ofher act as 'interesting' as the surprise of a caravan or the identification ofa pirate."
---
Daybook is contributed by Steve King, who teaches in the English Department of Memorial University in St. John's, Newfoundland. His literary daybook began as a radio series syndicated nationally in Canada. He can be found online at todayinliterature.com.