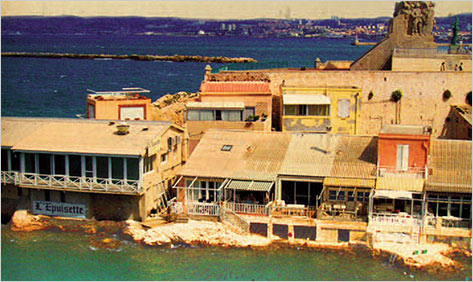 In classic noir fiction and film it is always hot. Fans whirr in sweltering hotel rooms, sweat forms on a stranger's brow, the muggy air stifles — one can hardly breathe. Come nightfall there is no relief, only the darkness that allows illicit lovers to meet, the trusted to betray, and murderers to act.

I was late in discovering the novels of Jean-Claude Izzo, the point man for what is now commonly referred to as "Mediterranean noir." Members of this unofficial school of crime writing, many of them published by Europa Editions, include Massimo Carlotto, Andrea Camillieri, Manuel Vázquez Montalbán, Yasmia Khadra, Valla Vakili, and, to some extent, older figures such as the late Leonardo Sciascia and Michael Dibdin, creator of the wonderful Aurelio Zen mysteries. Read their books and you'll know you're not in Britain or Scandinavia any more.

All these authors, writes Europa's publisher, Sandro Ferri, in History of Mediterranean Noir, recognize that "the Mediterranean has become, once more, a region rife with clashes, and political/ethnic conflicts; a place teeming with sackings of various sorts, with the fight for survival, with immense waves of migration, with war, with colossal concentrations of vested interests. Criminal appetites from all over the world — from the Slavic countries, from China and Southeast Asia, from Nigeria and central Africa — converge on the Mediterranean and enter into conflict with local criminal realities — the Sicilian Mafia, the camorra, the criminal milieu of Marseilles and the organized crime rampant in North Africa. Furthermore, this criminality is increasingly linked to 'legal' or 'respectable' activities, creating an opaque fabric that is virtually impenetrable."

Marseilles probably best represents this polyglot, multiracial melting pot. France's second-largest city is nothing like its neighbors, the luxurious Riviera and fashionable Provence. It teems with exiles and immigrants, with North Africans, Corsicans, Algerians, Arabs, Jews. Marseilles doesn't even regard itself as wholly French, having been founded by the Phoenicians. But like other southern port cities — New Orleans, Naples, Algiers, Barcelona — it is sensual, dangerous, and beautiful. I know. I used to live there.

The protagonist of Jean-Claude Izzo's novels is Fabio Montale, now in his forties, living alone by the sea, unable to commit to any woman yet attracted to many, drinking too much and deeply troubled in heart and spirit. Montale, the son of Italian immigrants, grew up in the Marseilles slums with two close friends, Manu and Ugo. The trio fished together, read books together, competed for the same girls — and never got over one in particular, the elusive Lole.

In those days jobs were hard to come by for poor boys without the right pedigree or connections. One night Manu appeared with two guns, one for himself, one for Ugo. He couldn't get a third, so Fabio became the getaway driver. Whenever the trio needed some spending money, they would rob a store or gas station. One night Manu was forced to shoot a shop owner, leaving him paralyzed.

That was back in the 1970s. Ugo soon left Marseilles to smuggle art, and Manu settled down at home as a career criminal. But Fabio, out of guilt, has become a cop, chiefly concerned with stemming the violence and crime among young people in the ever-growing Arab housing projects. After all, he knows what their life is like. He knows his beloved hometown, too:
Marseilles isn't a city for tourists. There's nothing to see. Its beauty can't be photographed. It can only be shared. It's a place where you have to take sides, be passionately for or against. Only then can you see what there is to see. And you realize, too late, that you're in the middle of a tragedy. An ancient tragedy in which the hero is death. In Marseilles, even to lose you have to know how to fight.
All this, so far, is just back-story.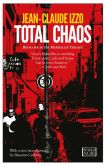 Total Chaos, first published in 1995, begins with Ugo's return to Marseilles, after twenty years away, to avenge the murder of Manu. It is a question of honor. "Honor was central to Marseilles life. 'You have no honor,' was the worst insult you could say to someone." As the reader gradually realizes, Ugo is actually on a suicide mission. Not that it matters: "If you have a debt to a friend, you have to pay it." When Montale finally arrives on the scene, he is just minutes too late. But the brokenhearted cop hardly has time to mourn before a young Arab girl he cares about unexpectedly disappears, followed by an outbreak of turf warfare among the local gangsters. As the days go by, Montale finds himself searching for answers to the sudden eruption of racism and bloodshed in Marseilles. Could there be a connection to the deaths of Manu and Ugo?

Total Chaos is a dark and violent book, yet many of its pages are full of sunshine and celebrate the fundamental pleasures of life. As Montale says of his own inclinations: "I loved fishing and silence. Walking in the hills. Drinking cold Cassis. Lagavulin or Oban late into the night. I didn't talk much. Had opinions about everything. Life and death. Good and evil. I was a film buff. Loved music…. More than anything, I loathed half-hearted, spineless people." Good wine and pasta, bouillabaisse and soupe au pistou, fresh fish, olives, glasses of pastis, and, to borrow the title of Izzo's essay collection, "garlic, mint, and sweet basil" are central to Montale's view of how life should be enjoyed. Music and poetry are important too, almost as important as friendship and love. Through them suffering and death can be defeated for a while.

In the end, Montale figures out the truth behind all the murders and also manages to achieve what just might be a lasting happiness. Might is the operative word. It would seem that Izzo originally meant to leave Montale in the arms of his beloved, the two of them finally together in this "city after our own hearts." But he eventually decided that in Total Chaos Montale's story was just beginning.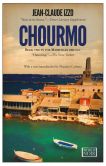 In Chourmo — the second installment of what would become The Marseilles Trilogy — Montale, now an ex-cop, is asked to find his beautiful cousin's missing teenage son. Scarcely has he agreed to look for Guitou than a former colleague, a counselor and confidant of Arab youth, is assassinated before his eyes in broad daylight. As Montale peers down at Serge's bullet-riddled body, he realizes "that the years had gone by, and that seemed to be all I ever did: crouch to look at a corpse. Shit! It couldn't be starting all over again, could it? Why were there so many corpses in my life? And why were more and more of them people I knew or loved?"

As Chourmo progresses toward its heart-racing conclusion on the winding cliff roads above the Mediterranean, Izzo reintroduces Montale's various friends from Total Chaos:enigmatic Lole, journalist Babette Bellini, former prizefighter Mavros, the motherly cook Honorine and the fatherly Fonfon, the restaurant owner Felix. While sipping pastis at Felix's one night, Montale reflects on how life in Marseilles used to be and why a man might need to drink a lot:
Those were the days when people still knew how to talk to each other, when they still had things to say to each other. Of course, it made you thirsty. And it took time. But time didn't matter. Nobody was in a hurry. Everything could wait a few more minutes. Those days were no better and no worse than now. But it was a time when you could share your joys and your sorrows. You didn't hold back. You could even tell people you were poor. You were never alone.
First published in 1996, Chourmo also makes clear that terrorism didn't begin on September 11, 2001. Serge's death ultimately leads Montale to an Islamic fundamentalist network, a cache of arms, and plans for revolutionary violence. Guitou's disappearance, however, is linked to an increased Mafia presence in "respectable" Marseilles businesses. By its end Chourmo achieves a level of pity and horror that recalls Greek tragedy.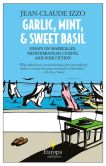 In fact, in his essay "The Blue and the Black" — included in Garlic, Mint & Sweet Basil — Izzo traces Mediterranean noir back to ancient literature, to Cain and Abel and to Oedipus Rex. He reminds us that Sophocles' play about the working out of fate was once cheekily recast as a Serie Noire thriller: "A stranger arrives in town, everyone watches him, closing their doors and windows as he passes…"

Despite the escalating violence, Chourmo still proffers periodic glimpses of happiness, Mediterranean-style. Montale, for instance, repeatedly finds himself attracted to beautiful women of all races — the seductive Vietnamese Cuc here, the West Indian hooker Marie-Lou in Total Chaos — and they to him. Honorine prepares one glorious dish after another. The bad guys get their comeuppance. But in the final volume of Izzo's trilogy only darkness surrounds us. In Solea (1998) friendship brings death, love brings death. There are only faint gleams of hope and they are soon extinguished.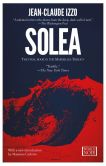 Babette Bellini has been in Rome researching the Mafia when her lover is captured, tortured, and killed. She flees to a safe haven, then mails five diskettes to the one man she still trusts, Fabio Montale. The same day Montale's phone rings and the caller asks about Babette's whereabouts, then brutally orders Montale to find her. He refuses. The next morning a single mother with an eight-year-old son has her throat cut. When the phone rings again, the voice on the line explains: "We're going to kill your friends, Montale. All of them. One by one. Until you find the Bellini woman."

Solea is Izzo's most political novel, moving beyond condemnation of racism and the right-wing National Front. The Mafia buys politicians, corrupts the police, and finances every aspect of our comfortable urban lives. Babette's reporting lays out the names, the numbers, all the data. But what is to be done against so cruel and omnipotent an enemy?

Montale comes up with a plan that he hopes will save both Babette and those he loves. Yet there's no getting around his own growing despair. And not just about the world but also his place in it: "We spend our lives losing our way and by the time we find it, it's too late." Nothing has worked out as he once dreamed it would. He has failed at love, he feels worn out, evil seems more pervasive than ever, and the city he identifies with is losing its traditions and its soul. In its anger and weariness of heart Solea is Izzo's version of John le Carré's The Spy Who Came In from the Cold or Sam Peckinpah's bleak western The Wild Bunch.

It's hard to be moderate about The Marseilles Trilogy. "In my thirty years as a publisher," writes Sandro Ferri, "no author I have ever published has roused such passion in readers as Jean-Claude Izzo." Izzo's novels, he explains, are "alive, carnal, pulsating with suffering and a thirst for life, even while they carry with them that mythical quality." He adds that the books, for all their pessimism, somehow "leave one with a desire to live."

For me, Izzo's books and essays also recreate the Marseilles I knew in 1970–71, when I was roughly the same age as the young Ugo, Manu, and Fabio. That year I was teaching English at Lycée Saint-Exupéry, in the Fifteenth arrondissement, one of the poorest neighborhoods in the city. In those days I drank pastis in the evening, wore a cloth cap, and often sported a fisherman's sweater that buttoned rakishly on the left shoulder. Bar owners knew my name.

It was a magical year, full of beauty and paradox. I have never seen such gorgeous sunsets as those in Marseilles, never again eaten such seafood, never again felt the truth of Camus's words: "No one who lives in the sunlight makes a failure of his life." Marseilles, all by itself, is a sensual education.

Throughout Izzo's novels Montale periodically insists on the distinctive beauty and languid sophistication of Marseilles' girls and women. Indeed. My Italian friend Paolo grew so infatuated with a young prostitute working around Place de l'Opéra that he would buy her roses. One night a blonde sixteen-year-old from one of my classes knocked on my bedroom door and said, "Can I spend the night here?" It wasn't quite what it sounded or, perhaps, what I would have wished. She'd been seeing a thirty-two-year-old married man, and her parents had found out and she was afraid to go home.

In Marseilles my local barber was a dwarf. Every few weeks I'd climb down into a hole he'd excavated, then sit on a chair so that my head came level with his waist. He would walk round the edge of this pit, scissoring away, while relating graphic stories about the delights and perfidy of the women he had loved.

Though I sometimes meandered with the fearlessness of youth through the Algerian quarter at night, I never experienced any of the criminality or violence Izzo describes so well. But I knew it was there. The closest I came was during a celebration honoring the hundredth anniversary of the Paris Commune. Students and young people broke into a school cafeteria and liberated all its wine. We drank and sang The International — "C'est la lutte finale!"– and embraced one another until the riot police arrived and everyone scattered. I eventually made my way down to the Vieux Port, where I ordered coffee at my favorite café and watched the fishing boats in the harbor, all the while feeling deeply pleased with myself to be young and living in Marseilles.

I now wonder if Jean-Claude Izzo, just a few years older than I, might have been there during that Fête de la Commune. In this era of the Internet, I might be able to ask him — if he had not died from cancer in 2000 at the young age of fifty-five. But at least he left to the world his chiaroscuro portrait of the city he loved.

Paolo, who came from Pavia and taught Italian language classes, used to remind me, "Vraiment, Michel, nous ne sommes pas en France, nous sommes à Marseille." That is, "Really, Michael, we're not in France, we're in Marseilles." When I left at the end of the school year I assumed that I'd soon be back, emerging bleary-eyed from the Paris night train at the Gare Saint-Charles, strolling again along La Canebière, revisiting the Calanques inlet where I once capsized my boat and almost drowned. But it's been many years now and I've never managed to return to Marseilles — until, that is, I opened these three novels by Jean-Claude Izzo.