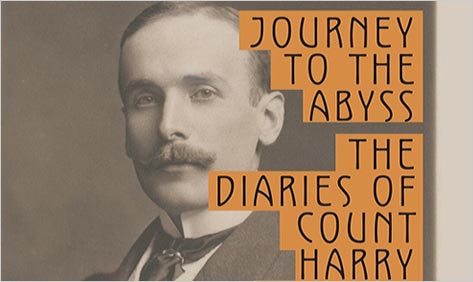 Who was Count Harry Kessler (1868-1937)? For years, I confused him with Count Heinrich von Keyserling, author of the once bestselling but now rather forgotten Travel Diary of a Philosopher. But at some point I ran across W. H. Auden's description of Kessler as "the most cosmopolitan man who ever lived." This was seriously intriguing — it came from a review of In the Twenties, a 1971 translation of the German aristocrat's later diaries — but I naturally suspected Auden of exaggeration.

Never doubt poets.

One might define "cosmopolitan" in multiple ways, but the concept should, I think, include being comfortable in any sort of society; a wide-ranging knowledge of art, literature, politics and history; and, not least, an address book filled with lots of interesting names. Here, for instance, are just some of the men and women who appear in Journey to the Abyss, nearly all of whom Kessler dined with, observed in their studios, commissioned art from, or regarded as friends.
Poets: Paul Verlaine, Hugo von Hofmannsthal, Rainer Maria Rilke.

Artists: Edvard Munch, Rodin, Monet, Degas, Aristide Maillol, Augustus John, Matisse, John Singer Sargent, Vuillard, Bonnard, Picasso.

Prose writers: August Strindberg, André Gide, Maurice Maeterlinck, Gabriele d'Annunzio, Gerhart Hauptmann, Max Beerbohm, Colette, Jean Cocteau, Bernard Shaw, Maxim Gorky.

Composers: Richard Strauss, Ravel, Stravinsky, Schoenberg.

Theater people: Sarah Bernhardt, Max Reinhardt, Gordon Craig, Isadora Duncan, Eleanora Duse, Diaghilev, Nijinsky.
This hardly exhausts this marvelous book's catalog of celebrity. In his youth Kessler frequently visited the insane Nietzsche and later helped plan the philosopher's funeral. He consulted with Arts and Crafts mastermind William Morris and the great bookbinder Douglas Cockerell before he started his own Cranach Press. He also seems to have attended every major theatrical and musical event of the Belle Époque, including, of course, the riotous Paris premiere of The Rite of Spring. He missed the first London performance of Peter Pan in 1904 but caught the play in 1905.

Impressive, yes, but Kessler didn't just frequent the company of artists and creators: He knew all the great aristocratic families listed in the Almanach de Gotha. He hobnobbed with the beau monde of Paris, the upper crust of London, the Junker aristocracy of Germany. At one point he became the artistic impresario of Weimar and eventually an ambassador to Warsaw. He spoke English and French perfectly — after all, as a boy, he'd been a student at St. George's School in Ascot (where he nearly overlapped with Winston Churchill), and he lived for long periods in Paris. His library included works in all his languages, as well as Latin and Greek, which he read for pleasure regularly. Yet Kessler was no scholarly antiquarian. As he once said, "Our home is the present, may it be ever so heterogeneous nationally."

The son of a German financier and a beautiful Anglo-Irish mother, the twelve-year-old Kessler begins his diaries — which he wrote in English for the first decade — by describing a visit from Emperor William I to the resort town of Ems. There, the elderly German sovereign pays particular attention to Kessler's vivacious young mother, so much so that rumors would linger for years about the paternity of the diarist's sister Wilhelmina.

In short order, though, Kessler finds himself attending St. George's, studying Cicero and Caesar and discovering early models for his own writing in Pepys, Boswell, and Macaulay. On school holidays he travels to London to see plays and operettas, including Gilbert and Sullivan's Patience, and at the age of fourteen announces that he is an esthete: "I am utterly consummately intense wearing sunflowers and poppies and dahlias in my buttonhole."

But then his father, no doubt worried that his heir might forget his sturdy German heritage, has Kessler transferred to a German Gymnasium. There the teenager devours Dante, Rousseau, Balzac, Madame Bovary, Dickens, Zola, Crime and Punishment. For a break he attends Buffalo Bill's Wild West Show. He eventually enrolls in the University of Bonn and later transfers to Leipzig. One university friend commits suicide; another murders a girlfriend.

In 1891 Kessler embarks on a trip around the world. New York, he records in his diary, is a city of "nervous haste and unrest. People don't walk, they run, most while reading a newspaper." By contrast, the streets of Washington are deserted and "everything seems dead." Passing through Georgetown, he observes "countless Negro shanties out of which a black child's face with large white eyes stares." He travels to St. Augustine and Tampa, then on to New Orleans, where he drops in at "the most elegant place of entertainment" in the city. "On stage a corpulent lady sings couplets. Men in slouch hats and dirty flannel shirts drink absinthe on little tables. Women in décolleté, smelling strongly of musk and with naked legs, their faces bloated and garishly made up, sit at the tables or on the laps of the men. As soon as someone enters one of these women is all over him."

In Texas Kessler stops at the Alamo; in Los Angles he encounters a traveling opera company that includes "seventeen dogs and nine parrots." After heading up the coast to San Francisco, he admires the architecture of Stanford University, which had opened only the year before. Then he takes ship to Japan, where, again, he hungrily absorbs everything, from Kabuki drama to the details of the tea ceremony, before sailing to Shanghai, where he spends an evening in an opium den. And then it's on to Hong Kong, Saigon, Singapore, and Calcutta. Of the Taj Mahal, he writes that it "is the only building in the world that would be worthy of housing the Holy Grail."

The year 1893 finds Kessler back in Germany, performing his military service and falling in love with one of his comrades. He reads J. K. Huysmans's decadent masterpiece A Rebours and calls it the work of "a frightful showoff." (In later years he will be entertained by Robert de Montesquiou, the inspiration for Huysmans's ultra-decadent hero, as well as the model for Proust's homosexual Baron de Charlus.) His stint in the army completed, Kessler utterly immerses himself in what we now call the Belle Époque, a time of artistic extravagance and erotic scandal. His diary grows increasingly heady and star-studded.

Following one late-night dinner, he records that "when only Nijinsky, Cocteau, Diaghilev, Bakst and Stravinsky were still there, the Aga Khan arrived in an Indian costume covered in precious gems." He writes that Natasha, Baroness Varnbüler von und zu Hemmingen was formerly "the divorced wife of the Petersburg Siemens, who purchased her from her father, a Russian sea captain, educated her in a convent, and on the day she turned sixteen, married her." Another friend's grandfather, he writes, produced nineteen children and "at the end of his life lived alone in a hut in the high mountains with seven eagles and a golden bowl full of wonderful precious stones." Everywhere the handsome count goes he observes people with a cool eye:
During the cotillion the princess Pless, who is the exact opposite of the grand duchess, sat on my other side: blond, white, milky, with soft, succulent flesh. Her face is pretty but without expression or dignity. Confronted with her pleasant, insipid radiance you understand Homer's description of the magnificent cow face of Hera. In bed she must be agreeable, boring, and sentimental.
When he meets his sister's fiancé, Kessler frankly confesses that the man "gives the impression of a pleasant philanderer." Paying a call on the ancient Princess Faucigny in Paris, he finds her gossiping with the Baroness Andrian: "The two old ruins…dressed in splendor sat almost frozen across from each other and conducted a stiff conversation about dead empresses." Lady Ottoline Morrell he sums up as "a tall, haggard, slender lady, only skin and sin like an angel by Beardsley." One night the black magician Aleister Crowley — "a fat, disgustingly dressed, bohemian Englishman with a collar" — "seemed in a bad mood and was silent except for proposing to us late in the evening an orgy with a new kind of intoxicating drink that causes colorful visions." He then adds: "Lola Lopez, the little Spaniard, danced on the table."

And always Kessler is on the move, journeying constantly from one European capital to another. In Paris he is present at the start of an 1895 automobile race to Bordeaux and back. He is awed by the Turner exhibition at London's National Gallery: "I hardly know a picture which I can compare in the beauty of its colors with the Temeraire" [i,e., The Fighting "Temeraire"] and, remarkably, is bowled over by William Blake's illustrations for his poems. "The English have had three great artists: Blake, Turner, and Rossetti." (Later he adds Constable and Hogarth.)

In Berlin he visits Edvard Munch's studio — Munch would later paint his portrait — and in Paris the hovel of Paul Verlaine, where the old poet sketches Rimbaud's head in the diarist's copy of Illuminations. At one dinner Kessler records Degas saying: "It's like that Englishman who went to die in a hotel, rue de Beaux-Arts, what was his name again?" His protégé, Jean-Louis Forain replies: "You mean Oscar Wilde, old Oscar." He finds that Renoir "has a quite small apartment on the second floor of a new house, about what you would expect of a minor postal official. The walls in all the rooms are completely covered with sketches and paintings by him…" When Maillol takes a two-month trip to Italy with Kessler, the sculptor brings nothing but a little sack: "Everything I need is inside."

While his diary startles with one famous name after another, Kessler appears closest to Maillol, Hugo von Hofmannsthal — who dedicated the libretto of Der Rosenkavalier to him — and the blubbery-lipped Rilke: When the poet leaves Paris, Kessler asks him "if he believed he could write in Duino." He could. (See the Duino Elegies.)

Perhaps my own favorite character, however, is Gabriele D'Annunzio, the melodramatically vain Italian poet, novelist, ladies' man, and adventurer. Kessler attends his play The Martyrdom of Saint Sebastian (with music by Debussy) and then meets the author: "I said the only honest thing I could about his play, that I admired his masterful command of the French language. D'A: 'I accept the compliment, monsieur, because I owe this to a terrific amount of work. I can truly say that I have been heroic!" Later a friend asks if D'Annunzio is fond of music, to which the Italian replies: "I believe yes, I have made nothing but music all my life. It is even because of this that I decided to write a play in French, since no translation could do justice to my efforts." Kessler then describes the man himself:
His suit is also Italian: light gray summer pants such as one sees in bazaars in Florence, or Sunday on Italian traveling salesmen. Add to that rundown patent leather shoes, a somewhat frayed coat with a black-braided casual suit, and a no longer new, light lilac necktie, the whole outfit in the style of a fading coffeehouse Don Juan from an Italian small town, Bologna or Pisa. The bald scalp and the yellow, wrinkled face with the pale blond little beard completes the burned-out impression, standing in contrast, it must be said, to the clever, often witty, often cruelly indifferent eyes.
Naturally, D'Annunzio's current mistress is radiantly beautiful and abjectly devoted to him. When Kessler visits the couple, he picks up a book the writer has dedicated to her: "To Nathalia, born drunk." When he later breakfasts with them, D'Annunzio speaks with frank admiration of his own foreword to Saint Sebastian: "There are some very remarkable passages in it. They have already made a big impression. They will have a great influence on French prose." The Italian's every gesture is operatic, pervaded with a "light half-ironic melancholy." When taking his leave of the young American woman who will soon become Marguerite Caetani, Princess of Bassiano, D'Annunzio dramatically pauses at the doorway to look back at his hostess:
But truly what a charming woman you are! One of those women of whom you retain a delicious memory. And we will never see each other again. Perhaps later, seeing each other more often, one would discover faults, but, like this, it will be one of those memories that you have in life, the memory of something exquisite that you will never see again.
Delicious as such vignettes are, Count Harry Kessler isn't just an observer of the social scene. Sometimes he grows reflective: "The fundamental fact of human sexuality is the back and forth between the imagination and copulation, through which the imagination is continually enlarged whereas the sensual pleasure remains the same and therefore falls ever behind the imagination." He speculates on the character of nations: "[T]he Englishman acts, the Frenchman speaks, the German thinks (dreams?)." There are, admittedly, far too many off-putting comments about the Jews: "Jewish irony, sentimentality, slyness are incarnations of cowardice toward things, toward themselves, toward people." It's some consolation to know that after World War I Kessler repudiated such racism.

Like many others, he initially welcomed the war as an almost mystical struggle, glorying in his combat on the Eastern Front before suffering what may have been a breakdown, followed by relegation to a diplomatic mission in Switzerland. After 1918, however, the disillusioned Kessler would work hard for increased amity among nations and peoples. When a right-wing friend declared he wanted to rid Germany of the Jewish spirit, Kessler sardonically asked whether in that case there would "be much spirit left in Germany afterward." The count even came to America in 1923 to present a series of lectures at Williams College, largely pleading for "a reconsideration of the reparations imposed by the Versailles Treaty." In one talk he referred to a certain "Bavarian agitator." A decade later, Kessler fled the Third Reich, saw his fortune gradually disappear, and died, close to poverty, in a village near Lyons in 1937.

But as his editor, biographer (The Red Count), and translator Laird M. Easton observes in the hugely informative notes to this volume, during that second half of his life, as in the first half, Harry Kessler "never lost his fondness for society and for meeting the leading artists and writers of the day. He rarely missed the premiere of an important cultural production, whether it was Sergei Eisenstein's film Battleship Potemkin or Bertolt Brecht's Threepenny Opera, or Luigi Pirandello's Six Characters in Search of an Author." To his already astonishing circle of glitterati, he would add, among many others, the dancer Josephine Baker and the physicist Albert Einstein, the politician David Lloyd George, the actor Paul Robeson, and the novelist Virginia Woolf.

What a life! To read Journey to the Abyss: The Diaries of Count Harry Kessler, 1880-1918 is to revisit, at least in revery, a lost world of European civilization, to experience for a while all the cultivated douceur de vivre that disappeared forever in the blood-soaked trenches of World War I. The only diary I know that can compare with it is Robert Craft's wonderfully gossipy Stravinsky: Chronicle of a Friendship.