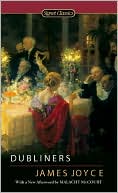 James Joyce's Dubliners was published on this day in 1914. Before and long after publication, Joyce fumed that "nine years of my life" had been consumed by efforts to get his story collection into print–the "litigation and train fare and postal expense," the correspondence with "seven solicitors, one hundred and twenty newspapers and several men of letters," the refusals and humiliations received from forty timid or waffling publishers.

The prospective publishers had balked at the irreligious, anti-Irish, spit-in-the-eye tone they saw in Dubliners. Joyce's correspondence with the editors admits that "the odour of ashpits and old weeds and offal hangs round my stories," but he defends his attempt to give the Irish "one good look at themselves in my nicely polished looking-glass." At one point Joyce agreed to some of the changes requested, but as these requests grew he dug in, refusing to make Dubliners "like an egg without salt," or make himself "a literary Jesus Christ." On his way back to Europe in 1912 after more failed negotiations, Joyce composed (and later had distributed in Dublin) a satiric poem about an Irish printer who, for love of country, burns an anti-Irish book and keeps the urned ashes for mock penitence:
This very next lent I will unbare
My penitent buttocks to the air
And sobbing beside my printing press
My awful sin I will confess.
My Irish foreman from Bannockburn
Shall dip his right hand in the urn
And sign crisscross with reverent thumb
Memento homo upon my bum.
Privately, Joyce thought his stories were perhaps too "mischievous," and not the entire truth about Ireland or his feelings for it. Biographer Richard Ellmann reads "The Dead," the most famous story in Dubliners, as "a lynchpin in Joyce's work" in that it reflects a sea change in his feelings about home:
In Trieste and Rome he had learned what he had unlearned in Dublin, to be a Dubliner. As he had written his brother from Rome with some astonishment, he felt humiliated when anyone attacked his "impoverished country." "The Dead" is his first song of exile.

---

Daybook is contributed by Steve King, who teaches in the English Department of Memorial University in St. John's, Newfoundland. His literary daybook began as a radio series syndicated nationally in Canada. He can be found online at todayinliterature.com.