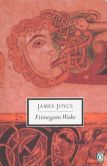 James Joyce's Finnegans Wake was published on this day in 1939. Joyce had hoped to have the book come out on his birthday, as Ulysses had done in 1922; this proved impossible, but one advance copy was delivered for February 2, and a birthday-book celebration was organized to toast the author and his seventeen years' labor. With the looming uncertainty of war, and the certainty that Joyce did not have another seventeen-year book in him, the party became something of a career celebration. Joyce's daughter-in-law, Helen, arranged for a cake in the shape of all his books, titled and laid in a row, and read aloud from the last of the Wake:
…Whish! A gull. Gulls. Far calls. Coming, far! End here. Us then. Finn, again! Take. Bussoftlhee, mememormee! Till thousands-thee. Lps. The keys to. Given! A way a lone a last a loved a long the
As the war came ever closer, Joyce despaired that his novel, a difficult read at the best of times, would receive no attention at all. His own health problems and his daughter's mental instability compounded the gloom, as did the increasingly frantic and frustrating attempt to escape Paris. One anecdote from the end describes Joyce's customary refusal to go home from the party culminating in an intricate two-step upon the stairs, these dark and narrow, Joyce's eyes and mood about the same: "Come on, let's dance a little…. Come on then, you know very well it's the last Christmas." Another anecdote describes Joyce and his buddies out to dinner at a large Parisian restaurant/dance hall crowded with French and British troops. When the soldiers started to sing the "Marseillaise" Joyce joined in, and his tenor voice so impressed that the soldiers hoisted him onto a table to sing the song again: "You never saw such an exhibition of one man dominating and thrilling a whole audience. He stood there and sang the 'Marseillaise' and they sang it again afterwards with him and if a whole German regiment had attacked at that moment they would never have got through."
Joyce died in early 1941, a month after reaching Zürich and twenty months after the publication of Finnegans Wake.
---
Daybook is contributed by Steve King, who teaches in the English Department of Memorial University in St. John's, Newfoundland. His literary daybook began as a radio series syndicated nationally in Canada. He can be found online at todayinliterature.com.