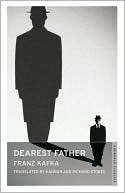 On this day in 1883 Franz Kafka was born in Prague. Few writers have been so closely linked to or made so much of their home and city as Kafka. But for the months spent in sanitariums and a half year spent with a girlfriend, he lived in Prague with his parents all his life, working as a claims adjustor for an insurance company, writing by night but publishing little. According to Kafka's own self-description, he was "fretful, melancholy, untalkative, dissatisfied and sickly" — made this way, and made into a writer, by "this giant of a man, my father, the ultimate judge." In Letter to My Father, Kafka's fifty-six-page attempt to explain their relationship, he concludes: "My writing was all about you; all I did there, after all, was to bemoan what I could not bemoan upon your breast. It was an intentionally long-drawn-out leave-taking from you." This was at the age of thirty-six, four years before he died of tuberculosis.

Kafka's ambivalence about separating from his parents gave rise to a five-year correspondence with Felice Bauer in which the two became engaged and then broke it off twice. Kafka's daily letters, eventually collected into the 550-page Letters to Felice, reveal a pathological degree of indecision and worry, and yet more on life at home:
At home the sight of the double bed, of sheets that have been slept in, of nightshirts carefully laid out, can bring me to the point of retching, can turn my stomach inside out; it is as though my birth had not been final, as though from this fusty life I keep being born again and again in this fusty room.
When Gregor, the dutiful, live-at-home son in "The Metamorphosis," wakes to find himself a beetle about three feet long, it is mother and father who are at the retching point:
His mother — in spite of the chief clerk's being there her hair was still undone and sticking up in all directions — first clasped her hands and looked at his father, then took two steps towards Gregor and fell on the floor among her outspread skirts, her face quite hidden on her breast. His father knotted his fist with a fierce expression on his face as if he meant to knock Gregor back into his room, then looked uncertainly round the living room, covered his eyes with his hands and wept till his great chest heaved.
---
Daybook is contributed by Steve King, who teaches in the English Department of Memorial University in St. John's, Newfoundland. His literary daybook began as a radio series syndicated nationally in Canada. He can be found online at todayinliterature.com.