The author of Swamplandia! gives us a tour of her bookshelf.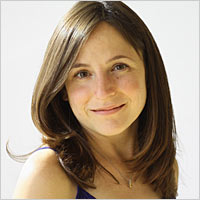 With her first book of short stories, St. Lucy's Home for Girls Raised by Wolves, Karen Russell has emerged as one of the most playfully inventive writers of contemporary fiction. Our reviewer, Paul Di Filippo, writes of her recent novel, "If you were to take the exuberantly fecund tropical paintings of Martin Johnson Heade and commission the ghost of Angela Carter to write a story based on them, you might very well end up with something approaching the garish and fierce beauty of Swamplandia!" We asked Karen Russell to tell us about three of her favorite books. Her answers appear below.
---
By Flannery O'Connor
"I think you could read this book of stories for the rest of your life and never exhaust it. I love how funny O'Connor is. I love her gothic imagination and the clarity of her vision, her compassion for her characters that is totally void of sentimentality; also the sense you get that she's taking extraordinary pleasure in the arrangement of language. I read somewhere that she would routinely crack herself up while writing, and I love that idea of Flannery O'Connor at her desk in Georgia, just yukking it up. She writes about the real people of the South with incredible moral force and builds to climaxes that feel shocking yet inevitable. What O'Connor refers to as 'the mystery of personality' fuels every story. "The River," "The Life You Save May Be Your Own," and "Good Country People" are some of my favorites, and I'm fascinated by the stories that contain the seeds of her novel Wise Blood—"The Heart of the Park" and "Enoch and the Gorilla." I love how she can shift whiplash-fast between horror and humor and her stories' blood-soaked beatitude. As she puts it: 'I have found that violence is strangely capable of returning my characters to reality and preparing them to accept their moment of grace.'"
---
By Russell Banks
"The adolescent protagonist of this novel is one of my favorite characters in literature. Russell Banks channels the fourteen-year-old delinquent Chappie, who later renames himself "Bone" after leaving his abusive household ("household" being used here as a loose placeholder since Chappie lives in a mobile home with his alcoholic stepfather). Everything about his struggle is so convincingly, stupendously awful that it's hard to believe that Bone is just the product of Banks's imagination. Bone talks right to you with a teenager's enjambment, run-on sentences powered by runaway energy, and Banks calibrates his voice with the perfect ratio of affected swagger and nineties slang: naked fear, a kid's raw need for love and shelter.
Rule of the Bone also features what I think has got to be one of the most fantastic set pieces in any novel: at one point, Bone winds up with a seven-year-old girl named Froggie and a Rastafarian mystic in an abandoned bus, a shipwreck of rust and wildflowers and ganja smoke that Banks transforms into a heaven for stowaways."
---
By Ray Bradbury
"This book was the first short story collection I ever read, and it's still one of my favorites. I'll never forget the ice-water shock of reading the first story "Ylla," about a golden-eyed, telepathic Martian woman who somehow felt as recognizable to us as our own mothers. Bradbury's graft of 1950s Ohio onto Mars makes even the most outrageous stories in this book feel hauntingly familiar. If you haven't read this one since seventh grade English, it's a wonderful, dreamy, and dark place to return to as an adult.
I'd forgotten how dark, in fact: Bradbury writes stories about nuclear holocaust, massive government censorship, racism, exile, and genocide. The whole collection hums with a scary, minor-key music—houses sing to their dead owners, and Earth boys play on the "white xylophones" of the exterminated Martians' ribs.
As an adult, I also appreciate the go-for-broke goofiness of some of Ray's premises: the House of Usher in outer space? But he keeps raising his own ante and he always trumps my disbelief. He writes almost unbearably realistic stories about every form of human yearning."