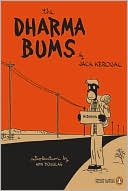 October 15: Jack Kerouac's Dharma Bumswas published on this day in 1958, a year after On the Road. Influenced by Gary Snyder and others, Kerouac began tostudy Buddhism in the early 50s. His novel opens with its autobiographicalhero, Ray Smith, hopping a freight train, quoting from the Diamond Sutra, andalmost believing "that I was an oldtime bhikku inmodern clothes wandering the world (usuallythe immense triangular arc of NewYork to Mexico City to San Francisco) in order to turn the wheel of theTrue Meaning, or Dharma, and gain merit for myself as a future Buddha(Awakener) and as a future Hero in Paradise."
But Ray is also devoted towriting, and a few pages later we get his famous description of Allen Ginsberg'sfirst public reading of Howl:
Anyway I followed thewhole gang of howling poets to the reading at Gallery Six that night, whichwas, among other important things, the night of the birth of the San FranciscoPoetry Renaissance. Everyone was there. It was a mad night. And I was the onewho got things jumping by going around collecting dimes and quarters from therather stiff audience standing around in the gallery and coming back with threehuge gallon jugs of California Burgundy and getting them all piffed so that byeleven o'clock when Alvah Goldbook was reading his, wailing his poem"Wail" drunk with arms outspread everybody was yelling "Go! Go!Go!"
Ray's Buddhism ischallenged from without, too. Fed up with his chants—"O wise and serenespirit of Awakenerhood, everything's all right forever and forever and foreverand thank you thank you thank you amen"—Ray's mother and sister, both ofthem good Catholics, tell him to "stick to the religion you were bornwith." Alvah Goldbook, the Allen Ginsberg character in the novel, says "tohell with all this Buddhist bullshit." Even Japhy Ryder, the Gary Snydercharacter, complains that there's too much bum in Ray's dharma:
"Why do you sit on your ass all day?"

"I practicedo-nothing."

"What's thedifference? Burn it, my Buddhism is activity…"
Later on in the novel, it'sRyder who calls for a revolution led by "a world full of rucksackwanderers, Dharma Bums."
---
Daybook is contributed by Steve King, who teaches in the English Department of Memorial University in St. John's, Newfoundland. His literary daybook began as a radio series syndicated nationally in Canada. He can be found online at todayinliterature.com.