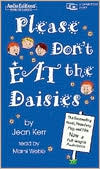 January 5: The American playwright and humorist Jean Kerr died on this day in 2003. Kerr's midcentury popularity put her on the cover of Time magazine in 1961, on the heels of the movie version of her bestselling Please Don't Eat the Daisies, and as her romantic comedy Mary, Mary was just starting its record-setting 33-month run on Broadway.
A number of Kerr's popular magazine pieces are based on her misadventures as wife (to the drama critic Walter Kerr) and mother (of six). "The Poet and the Peasants," in several of her anthologies, tells the story of the Kerr family's weekly "Culture Hour": Sunday evening sessions in which the kids had to recite the poem which they had chosen to memorize that week, and then sit still for the classical music selection which their parents had chosen to inflict. At first, these forced gatherings were what most parents would predict — mumbled limericks, Tchaikovsky drowned out by "Take that ashtray off the top of your head." But instead of retreating, Mom and Dad pressed on, beginning with a decision to choose not only the music but the poems, these ranging from "The Highwayman" to "Dover Beach" to Hopkins's "Spring and Fall." Eventually, the kids took their medicine without complaint, and even with enthusiasm. At the very least, the forced cultural diet provided the parents with some fun. Kerr recalls that young Colin built a ramshackle fort in the backyard, over which he flew the banner "Fort Issimo." One evening, after two of the younger boys smashed a baseball through the living-room window, Chris reported the news to his mother with, "Come to the window, sweet is the night air." At one of the Sunday gatherings, Colin so poignantly recited a favorite poem of his mother's, a Sir Walter Scott ballad, that she began to cry, causing John to quietly observe, "Mom, it is Margaret you mourn for." And on the Monday morning after Chris had recited Eliot's "Prufrock," Kerr walked unannounced into the garage where Gregory was building a birdhouse:
What with the noise of the saw, he wasn't aware that I had come up behind him. What he was saying, thoughtfully and precisely, was "I am not Prince Hamlet, nor was meant to be."
---
Daybook is contributed by Steve King, who teaches in the English Department of Memorial University in St. John's, Newfoundland. His literary daybook began as a radio series syndicated nationally in Canada. He can be found online at todayinliterature.com.