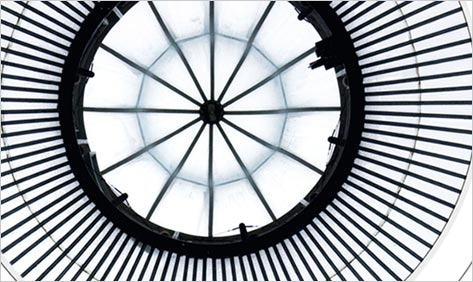 J. G. Ballard was born in 1930 in Shanghai, China, and returned to England in 1946, having been interned with his family in a Japanese prison camp, an experience that inspired his most popular novel, Empire of the Sun. Ballard's astonishing fiction ranges across continents and galaxies, but a quiet London suburb was his home until his death in 2009; and it is to the suburbs that he returned in his last novel, Kingdom Come. In its opening pages, the narrator, a London advertising executive named Richard Pearson, travels to one of the "perimeter towns dozing against the protective shoulder of the M25" to find out who murdered his father. It sounds like the setup for a cosy English mystery. But this is Ballard. It will not be cosy.

"The suburbs dream of violence," Ballard declares as we enter the blandly menacing town of Brooklands. Among this "placid sea of brickly gables" Richard searches his father's flat for clues to the life — and violent death — of a parent he barely knew, a pilot who had "flown millions of miles…and then died in a bizarre shooting incident in a suburban shopping mall." Three others died, and the suspected gunman, a mentally unstable local, is arrested but then released. The police, the family lawyer, the doctor who treated Richard's father — all appear to be hiding something, while many respectable Brooklands residents seem to have formed a fascist militia.

When Richard first witnesses a racist attack, he concludes that "a new kind of hate had emerged"; its hub is the Metro-Centre, the mega-mall in which his father was killed. During one visit, Richard sits beside the mall's manmade beach, where Julia Goodwin, his father's doctor, has arranged to meet him. "The wave machine had been turned to its lowest setting," he notices, "and a vaguely gastric swell, like a suppressed vomit reflex, flowed across the colourized water." This languid, sickly image could only be Ballard's. No other writer so effectively alienates his readers — and his protagonists — from an everyday reality that he reveals to be shifting, often nightmarish terrain.

At the same time, he soothes us. In Kingdom Come, as in Ballard's short stories and in novels like Crash, the rhythmical balance of the sentences has a tranquilizing effect, like the shushing roar of the ceaseless traffic on the motorway outside Brooklands. Richard, too, seems oddly numbed as he probes his father's involvement with local thugs, falls in love with Julia Goodwin, and is increasingly drawn to the Metro-Centre and to the figure of David Cruise, the mall's TV celebrity.

The novel's pace quickens as violence spreads and the Metro-Centre comes under attack. "Fights broke out, fists flailing through the workmanlike rise and fall of police truncheons" as screams are drowned out "by the blades of army helicopters cuffing the night air." Soon the mall becomes a fortress, hostages are taken, and the wave machine churns up a corpse. Emerging from the wreckage, Richard predicts that "In time…an even fiercer republic would open the doors and spin the turnstiles of its beckoning paradise." In his final, elegiac vision of suburban apocalypse, Ballard once again allows us to imagine the unthinkable.