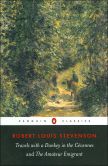 Robert Louis Stevenson was born on this day in 1850. Among Stevenson's three dozen books are a handful on his travels — by donkey, train, and ship, across Europe, America, and the South Seas. One of the travel books, The Amateur Emigrant, is described by Jonathan Raban as "the best account ever written of the great European adventure in the nineteenth century, the passage to America, the New World." Stevenson was twenty-five and penniless when he left, traveling to California, against his parents' wishes, to marry an older woman. Beyond the vivid travel details describing the emigrant experience, his book explores the frontiers of identity: "I was not only traveling out of my country in longitude and latitude," writes Stevenson about halfway along, "but out of myself."

The identity theme recalls Dr Jekyll and Mr Hyde, though Raban regards The Amateur Emigrant as the better book, and "his blackest by far." In a late chapter, as Stevenson and his fellow travelers eagerly approach California — "Hunger, you would have thought, came out of the east like the sun, and the evening was made of edible gold" — they wonder at their folly:
As we continued to steam westward towards the land of gold, we were continually passing other emigrant trains upon the journey east; and these were as crowded as our own. Had all these return voyagers made a fortune in the mines? Were they all bound for Paris, and to be in Rome by Easter? It would seem not, for, whenever we met them, the passengers ran on to the platform and cried to us through the windows, in a kind of wailing chorus, to "come back." On the plains of Nebraska, in the mountains of Wyoming, it was still the same cry, and dismal to my heart, "Come Back!"
---
Daybook is contributed by Steve King, who teaches in the English Department of Memorial University in St. John's, Newfoundland. His literary daybook began as a radio series syndicated nationally in Canada. He can be found online at todayinliterature.com.